Safety training pass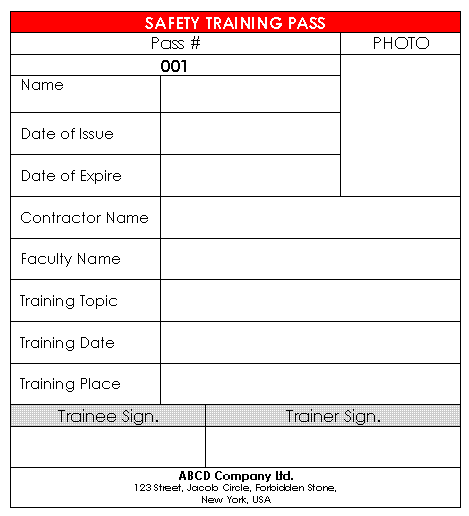 As a part of the advance planning for the safety training, safety training pass are distribute among the peoples who are nominated for safety training in organization, at the time of training those peoples who had safety training pass can get for the training, this is the systematic ways planning that taken in advance of the training time schedules. those peoples who are going for the safety training that Mindy as well as prepared its self the safety point of view.
Safety training is a primary but important requirement for the plans that run with high risk and hazardous material and situation that during the training all the hazardous area how to create safe environment, same way during the training people get the idea how to handle the hazardous material for safe works.
Safety training's trainees are selected peoples that working in plant area that well aware of the each activities within plant that well know the processes and internally hazardous if the identified and noted, for the advantage of the safety training pass is that peoples whose working in plant that prepared, monitored, identify risking processes and hazards to the take on place during the safety training.
Safety planners know that each unsafe activities, unsafe conditions and unsafe area can be covert with safe environment, and it is possible too, but need little effort to eliminate those unsafe environment, same functions are collaborate in training that peoples are Mind setup the situations at plant.
Safety training pass is unique technique & best planning example, for the best understanding you can see above picture that information about the person are available, same information had with trainer to focus on the people & primary corresponding to bridge the information, actually training is started when pass are distribute.
Here sample safety training pass given for download as below:
Related Topics: