Environment Control Plan (ECP)
Planning for controlling on aspect that identified, defined control measures & eliminate or minimize impacts on environment is the environment control plan.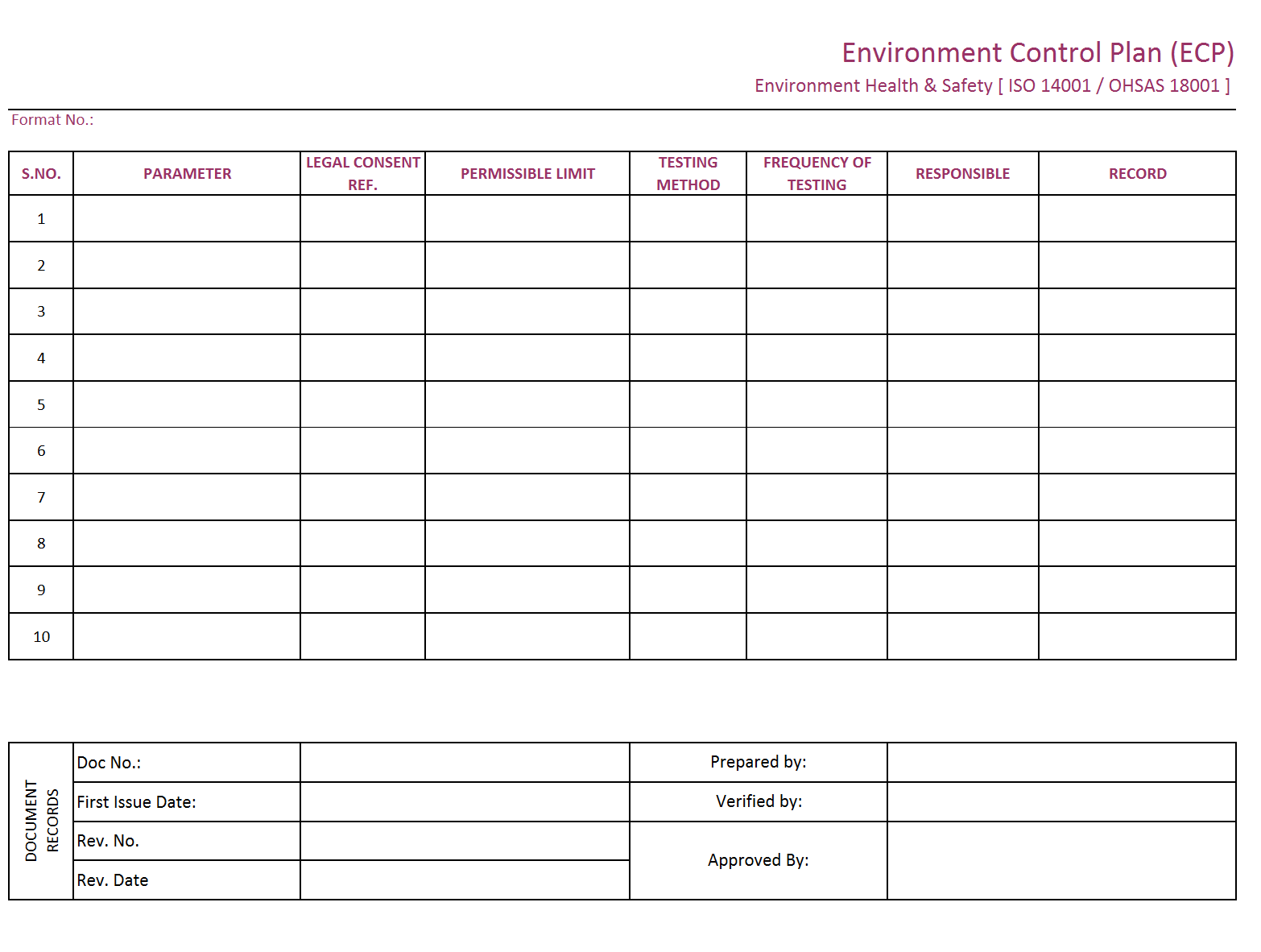 Environment control Plan (ECP) works on same principles that other process and product control plan works, identify parameters, considering of the legal consent that all the parameters and depending activities that legal consent had achieved by the company from pollution control board, those parameters and expecting level that consents covered the all aspects as per company activities are consider and expecting that company will be follow the rule to control and keep levels.
On base of the consent or identified hazards and aspect that company should be strictly follows & defined controls as requirements. In the consent had permissible limits are also given & need to focus on the levels through various testing as requirements of aspects and same way need to define frequency of the testing to monitoring and controlling with time manner.
Environment control plan (ECP) prepared as per company products, statutory requirements, Geo locations, material used in process support and government policy. But generally following activities or aspects are need to cover in environment control plan as below:
Fuel (Wood / Oil / Gas etc…) – can be possible to fuel efficient machines / boilers or equipment used or alternative equipment that save the fuels.

Waste Water – its can be control through waste water management / monitoring on waster water through meters.

Electricity – Electricity can be saving through maintenance of machines / low voltage lights like LED can use.

Chemicals

Noise

Waste – hazardous categorized.
Generally above points can be treat for the company that need to control on planning for environmental issues. Some issues can be eliminate through provides environment programs and training, investigations of the activities to concern parameters are need to maintain.
Related Topics: