Salary register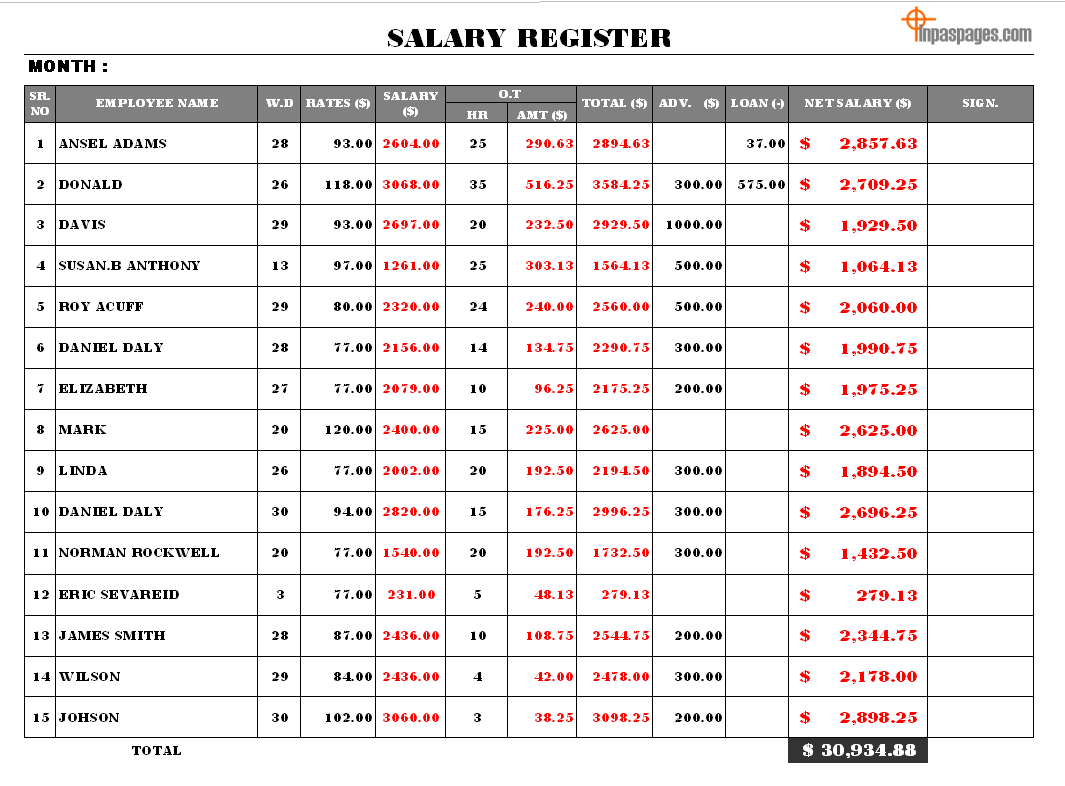 Salary Register: Salary register format is helps to keep the record of monthly salary earned by employees with deduction of amount details.
Salary register is used by human resource department which sub accounts of payroll system, salary register is simple register where all the employees monthly payable salary are counting at single format, there are two parts of the register are maintained first is employee earned and second is deduction form the salary:
Earning – Daily wages x days present + overtime hours + other allowances
Deduction – Load, Advances, taxes, loan interest, penalty etc..
Salary register helps to human resource department for the maintain each employee record in single format hence this is very important for the company accounting reason that company's big part of expenses are salary hence its maintained very carefully.
Sustain standard remunerations method in organization
The organization shall pay legal and industrial minimum standard wages and a discretionary income to every employee.
A salary slip should provide every employee including their basic salary, overtime and other earnings, and with deductions, if any by the finance department.
Salary / Payment shall be paid in full compliance with all applicable laws and paid in convenient manner to employee, bank transition is always recommended for all manner, in base of payment made by cash, salary payment voucher signed by employee against received cash salary.
The labor department have reserve the right that, every organization should maintain the data on the proper format as laid down as per labor law, so I advise you always maintain data and formats as per local government law / labor law, or take the advice of labor law department before finalize any standard format for salary, human resources documentation before sustain in organization.
Organization shall ensure that wage and benefit compositions are detailed clearly, regularly for employee.
The organization shall fix the period in respect of which the remuneration is payable to each employee, and accordingly pay the remuneration on a fixed date.
The payment voucher / salary slip should be clear, readable and easier for employee to understand and read, is in employee's language is appreciated.
Organization shall pay salaries directly to the worker account or on hand in case of cash.
EXAMPLES, SAMPLES & FORMATS
You would also like to read: