Salary Slip Format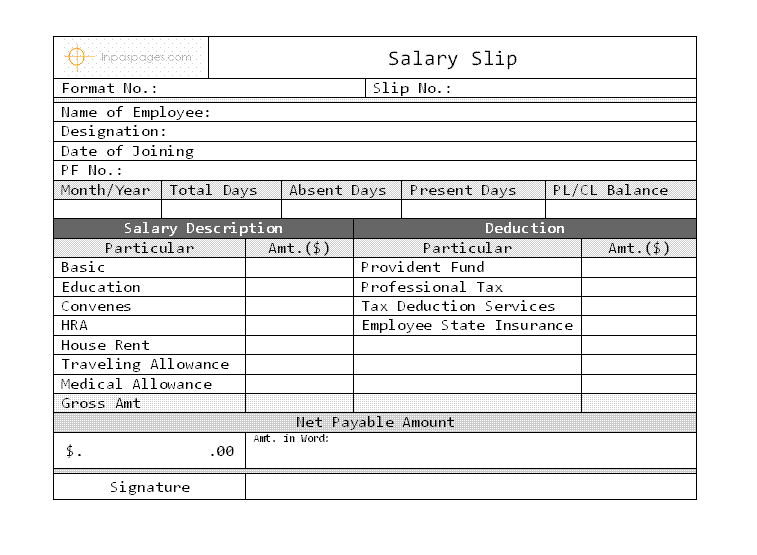 Salary is biggest and primary condition that bond with both the parties, employee and owner of company, on base of the salary organization growth can possible to achieve its targets, what is primary requirements of employee is salary & as return company owner expect hard work and honesty.
Due to primary requirement of employee, each company create the single format for the distribution among people that owned by human resource department to acknowledge details of employee what is getting and how this is Salary slip that acknowledge for employee to aware the total salary amounting is getting though below heads:
Basic
Education
Convenes
HRA
House Rent
Traveling Allowance
Medical Allowance
There are also possibility that, employer get the some different kinds head that can be incorporate in the under section of the salary details, like incentives, commotions on sales, etc.. And same will be deduction amount can be under head:
Provident Fund
Professional Tax
Tax Deduction Services
EmployeeState Insurance
There are also possibility that, employer deduct some amount from your salary like a load amounts, advance etc., salary slips is very important slip for the employee due to incase of employee needs a load from any banks that salary slips is primary requirements of documentations for banks, same will be required in any second jobs that as evidence second appointed company is also prefer salary slips of company which employee appointed its company.
To consider requirement of human resource, here is ready made format for the salary slips is available for download, you can edit, remove, and add any fields as your company requirements.
 ——————————————————
———————————————————
Related Topic: