Sample testing Template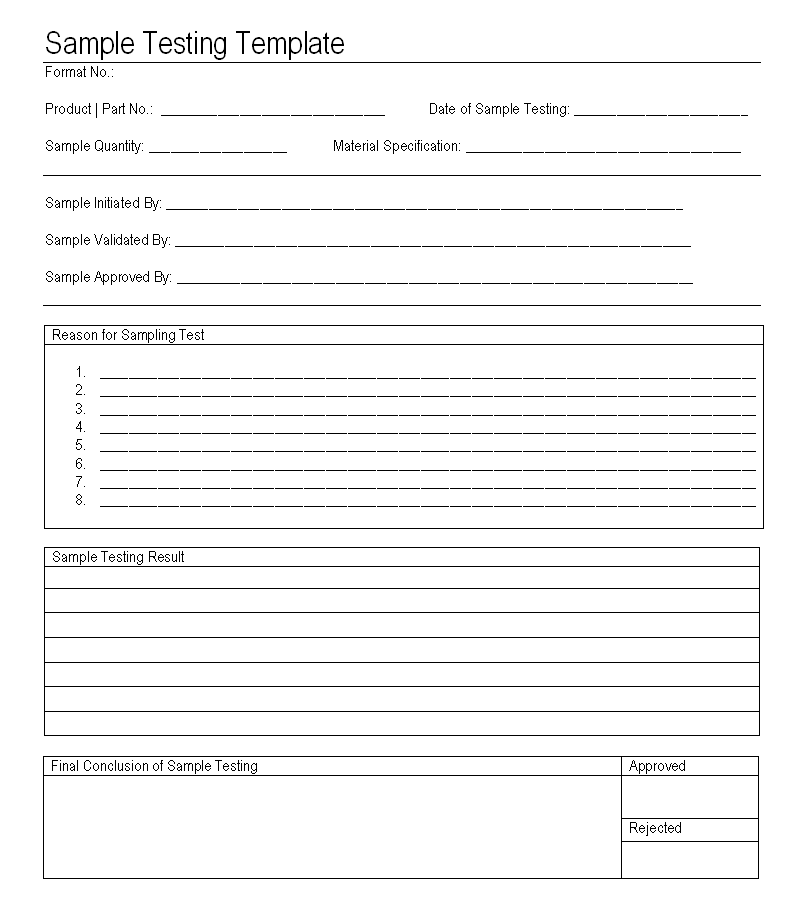 Product, Part Number – product, part's unique identification number.

Date of sample testing process done.

Sample Quantity – Total quantity taken for the testing as a sample

Material Specification – If the material is special or metal kinds of elements that required its specification, there are also some plastic or other chemical types of material need specification.

Sign in of Sample Initiated by, Sample Validated by, Sample Approved by – Persons whose are involved in the sample testing procedure.

Reason for Sample Testing – Detailed information of the reason behind the sample testing planning and actions for the sampling test are proceed. Specific reasons are need to mention here in this field.

Sample testing Result – After the completion all the required sample testing, result detail are mention in under the sample testing result records field to maintain record information and quick reference.

Final Conclusion of sample testing, Approval, rejection process – All the process after the completion of the result analysis, final conclusion of the sample testing and concern information details with the approval and rejection, selection are done. If the sample test is approved, material will be go for next process in case of the rejected that management will be takes the decision for further actions.
EXAMPLES, SAMPLES & FORMATS
You would also like to read:
INITIAL SAMPLE INSPECTION REPORT
DOCUMENT DISTRIBUTION LIST SAMPLE
SAMPLE ANALYSIS REPORT TEMPLATE
SHOW CAUSE NOTICE SAMPLE FORMAT
PURCHASE PRODUCT SAMPLE REQUEST FORM