Scar (Supplier Corrective Action Report) – CAPA
Scar (Supplier corrective Action report) is established for conducting non-conformance raised with product quality as per standard requirements, and to identify solution.
Scar (Supplier corrective Action report) is prepared & deployed in system for identify all incoming materials for inspection and identify non-conformity in the product as per quality system, standard requirements of product specification, scar report is for conducting those non-conformity raised by customer to managing and identify solutions, determine root causes, sources of failures or defects in the product to conduct corrective actions on product to met standard requirements of product standards, technical requirements and specifications of the products to comply customer requirements and end applications. Scar helps to determine actions to conducting non-conformance identify in the material which is directly affecting finish product, so its important that customers are frequently monitor on the incoming materials to conducting records and monitoring, inspecting materials to identify non-conformance and ranking supplies which can harm product quality. All the concern documentation, records and monitoring trends are provides to supplier for corrective actions for improvement of product quality, in case of the failure of actions and continue non-conformance raised that customers are ranking law and stop buying materials in line with ranking table of supplier for particular product.
Scar (Supplier corrective action report) and its process is conducted by purchase manager and responsible for deployment of procedure of scar, communication with supplier for conduct scar and further actions required for product improvement and internal communication to identify product quality by quality control department to ensure the purchased material quality. Scar is reporting format for actions by supplier on identification of non-conformance raised by customer to inspecting purchased materials by customers, see picture below given example format of Scar (Supplier corrective action report) for education purpose: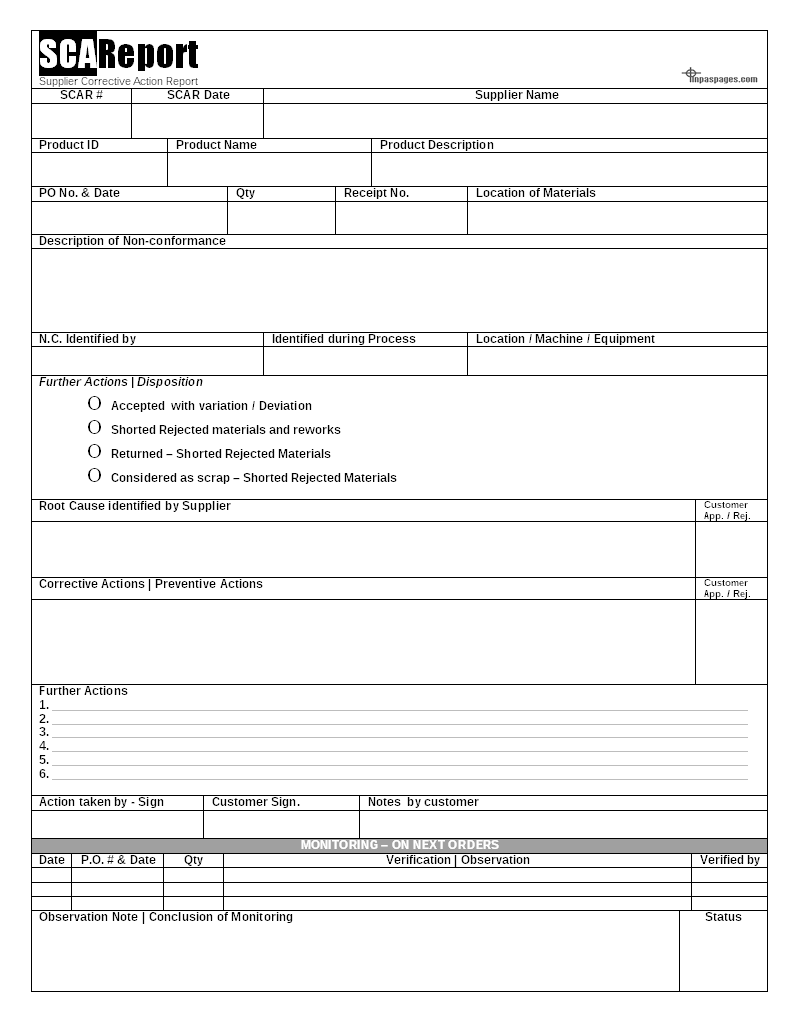 Scar format and its concern documentation, procedures are handled by purchase department to managing all the incoming products, materials which are used in manufacturing processes that directly affect product quality are managed for identification of the product quality, identification on non-conformance during receiving incoming materials of supplies from suppliers, the records are maintained and update by purchased department, all the records which are provided by suppliers against the non-conformance identified and actions reports that helps to determine improvement records. The records are maintained as per standard requirements and its disposal is conduct as per retention period.
————————————————————————
Download format in word document | Excel Sheet | PDF format
————————————————————————
Related Posts: