Scrap note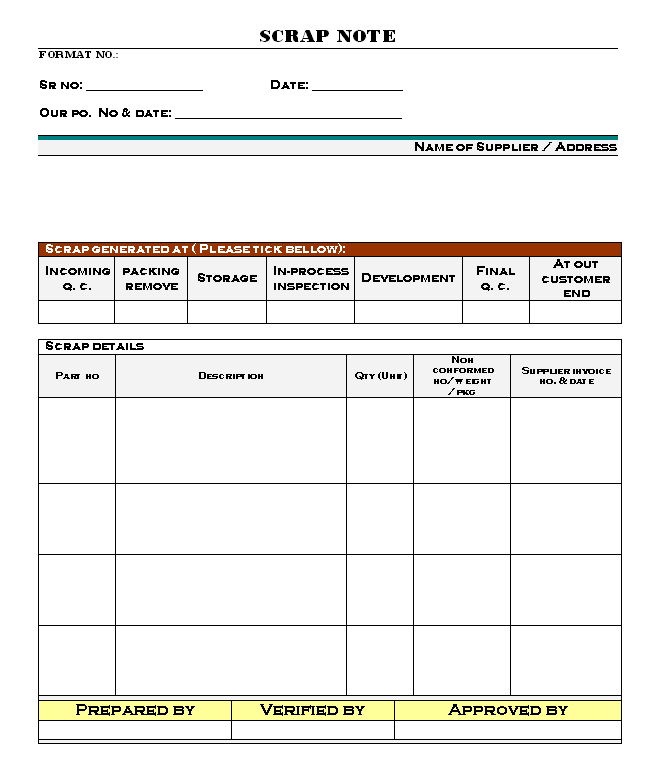 Scrap generation is losses of the company that if the company is well aware of the product scrap that purchased from suppliers and reason of the base product scrap generation percentage are increase that is direct losses for company, for the recording the each incoming material and scrap details are maintained in scrap note, this scrap note given complete information about the material purchased from which supplier and how much scrap is generated from the material which from particular supplier.
On base of the scrap note, supplier evaluation is also possible due to each supplier product scrap details can be possible through scrape note, each supplier scrap percentage of the product supplied against how much scrap generated, for the same for other suppliers, combination of the comparison gives the information of the which supplier is best for the minimize scrap on stages where material scrap are generating higher.
Here as below, some fields are given that need to perfectly filling for the information are possible to available for the further analysis, scrap information are very useful if the stage wise scrap generation are maintained. Accurate information gives the perfect analysis document, sample fields are given as below:
Scrap note number & date
Purchase order & date
Name of supplier
Scrap generated at which location – During incoming material quality checking, packing removal time scrap generated, at the storage area, in process inspection time scrap generated, deployment time, final quality control / checking / inspection type scrap generated or the end user that is customer end side scrap generated due to material basic component reasons.
Scrap Details
–         Part Number
–         Description
–         Quantity are used for the process
–         Total non conformed no / weight / Pcs during the process
–         Supplier invoice number / date against material through scrap generated
Information that collect from the each stages of the material flow, filled information in scrap note and analysis on data are collected from various stages that gives the picture from the analysis records of each supplier supplied material quality and base component errors.
EXAMPLES, SAMPLES & FORMATS