Scrap Reporting
Scrap reporting is part of documentation, conducted to reporting scrap during various operations from machinery at workplaces for minimization scrap percentage.
The purpose of scrap reporting and its related documentation are needs to establish and implement to identify workplaces, machine and processes that generating scrap during start up, shutdown or in-processes scrap. The procedure identifies the scrap generating multiple sources or processes, machine, issues and in between time of breaks, and general processes to manage each causes by capturing and recording the sources of scrap generators. This procedure can be applying at all the locations where materials are producing, inspecting, packaging and handling product where generally cutting, sharpening etc., processes are conducted. The main processes where scrap is generating are:
when any job has started needs to setup of machine as per required parameters as per product standards, technical requirements, dimensional setting etc, are managed, hence the making perfect and maintaining tolerances of product sizes needs to some trials, each trail generating scrap to get the perfect product, hence setup is general source of scrap. The records are needs to maintain in setup log or hourly check sheet / register with the time taken to set the machine up.
When the machine setup is completed and notifies the quality control team that the machine is producing product according to specifications, the quality team personnel should be verified that produced material are correct. Once the all quality control team are agreed that machine setup records, scrap details and defect occurred during setup are recorded.
In-process scrap identification, defect recording managed by quality team, the quality engineer shall confirm the defected / off quality situation, the machine should be immediate shutdown to stop defective pieces producing, the quality person should remain at the machine to ensure all scrap collection processes are followed and its concern records should be updated. The defective project behind many reasons, causes and sources that needs to identify by verifying visually as per technically. Generally mechanical issues cause defective product once the setup was successfully established. In the movement of machine problems, once the quality engineers declare the defective product identified, that needs to immediate call to maintenance team to visit and conduct necessary processes to ensure the machine is running sufficiently. The machine may need to continue to work the machine while the repair is being completed, and on restarting the procedure need to take the several attempts to ensure the product is in order of specifications. The documentation is maintained by supervisor to department manager on daily basis, the reports for the generated scrap are maintained in scrap report format.
See picture, example for education purpose: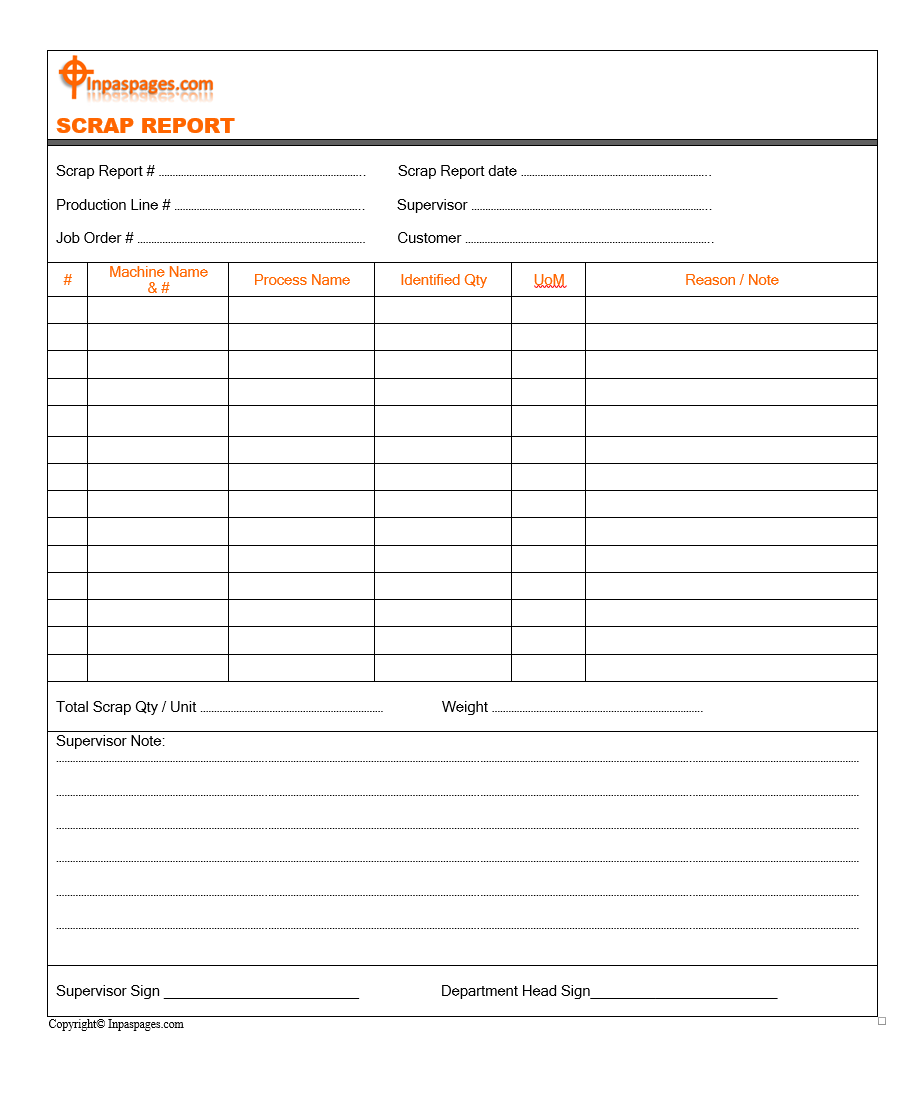 Case study (by inpaspages.com) to prevent scrap generating at time of setup – for the minimize scrap generate at time of setup of machine / in-process for producing materials as per specifications and customer requirements some basics are needs to take in line with requirements:
Check the basic process flow and diagram for particular product which is going to manufacturing
Discuss before setup machine (by department manager) with operators, technical team for customer technical requirements of product specifications, dimension requirements to minimize trails of product.
Take the advice of experienced personnel / skilled operators for setup machine and its parameters.
Arrangement meeting of technical team, cross function team to discussion on received orders for manufacturing product, if the quantity is enough for specific arrangement.
Training to machine operator for setup / maintain the parameter of machine and about product specifications and customer requirements.
Effective monitoring by supervisors during producing materials by basic inspection like dimension checking, measurements of product etc…
Department manager responsible for verification of each preventive maintenance is conduct properly at frequency defined, hence maintenance manager is equally responsible for verify and review of each preventive actions, and processes with machine.
Department manager collecting information from various departments and from machine records to identify the occurred errors, defect in product to analysis the scrap sources and reasons.
Accurately recording information, documentation and analysis of records are important for the identification of root causes of defects and generating sources of scrap, there are many techniques to identification and implementation of scrap analysis and effectively minimize scrap ratio in production area.
---
---