Shift wise duty chart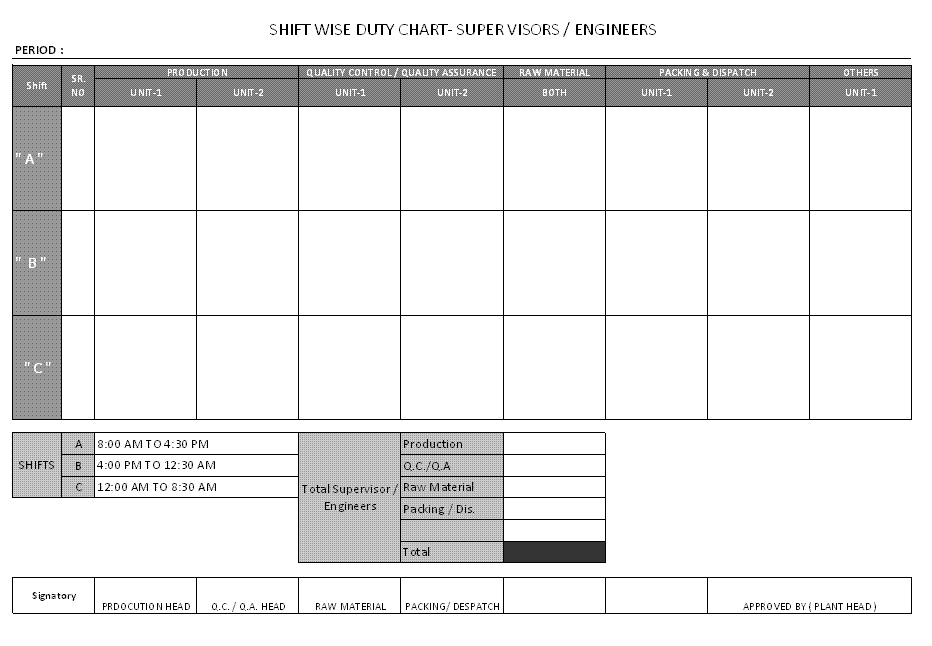 Man power management is very big challenge for the human resource department when nos of employee amount are huge and than also very complicated to manage all the employees as shift wise with effective manpower management for keep away this complication here are little format structure  to manage supervisor and engineering level manpower to reduce burden through easy format.
Shift wise duty chart also can make for the rotation system to day & night employee shift in defined time period. For the reduce complication identification number for each employee is very useful to play with some number & Characters.
In the format are given for the bifurcation of man power for three different shift as you also well aware about shifts and same I given the time schedule, might also match with your current company's schedule too. There are also given some department name that basic for all the organization for the easier to understand requirement of format.
For the unique requirement of human resource department, here are ready made format in excel sheet is available for download, you can add, remove, edit format your company requirements.
——————————————- Download ——————————————-
Download Shift wise duty chart in excel format
Shift wise duty chart Format | Shift wise duty chart example | Shift wise duty chart Sample | Shift wise duty chart template | Shift wise duty chart description
——————————————- Download ——————————————-