Standard Operating Procedures (SOP) – Procedure Review
Standard Operating Procedures (SOP) review conducted to verify the procedure contents, internal requirements, process requirements to meet quality product.
What is SOP (Standard operating procedure) process? / What is Standard Operating Procedures?
Standard operating procedures can define in five stages or as suitability of internal system requirements. Generally there are major five parts that helps to communicate the internal process / product / quality and departmental requirements to maintain and develop quality product. See below:
SOP preparation – Plan and designing standard operating procedure (SOP).
Standard operating procedure review and approvals.
Frequency of revisions / reviews on amendment.
Effective implementation of stages described. – Tracking and update of each standard operating procedure is important to manage uncovered parts.
Management of SOP accordingly.
SOP and Product requirements
The reviews of standard operating procedures (SOP) is required for the managing procedures, activities are complying quality process requirements to meet standard product requirements. The reviews of standard operating procedure (SOP) is maintained its review period as per internal system requirements. The review should focus on the document's contents, context, format, matching with internal process and activities. Standard product and technical requirements, and manufacturing practice. Some review factors / criteria for conducting effective reviews are:
The standard operating procedure adherence to standards to meet all the internal requirements and clauses. that will helps to implementation of quality product and development of processes.
Each standard operating procedure maintained its consistency and easier for tracing activities accordingly standard requirements.
The document visually and technically easy to read and comprehensibility.
The requirements of product, process, customer technical adequacy and feasibility of approach are considerable. Each stage, processes description and implementation steps are matched with technical requirements.
SOP comply the internal requirements hence the incontestability of requirements.  Appropriate uses in internal system requirements, technical and quality compliance should be considered.
Define role for Standard operating procedures
At initial stage, management define role and responsibility of each employee. Management assign duties and authority for preparation of standard operating procedures, reviews and implementation. It is standard practice that, management is appoints management representative, to perform all the tasks behalf of management. Management representative is authorized and responsible for whole SOP process. M.R. responsible for effectively implement SOP, tracking and verification of related processes. Team use the SOP review status sheet for review the SOP. See example format of SOP Review status format: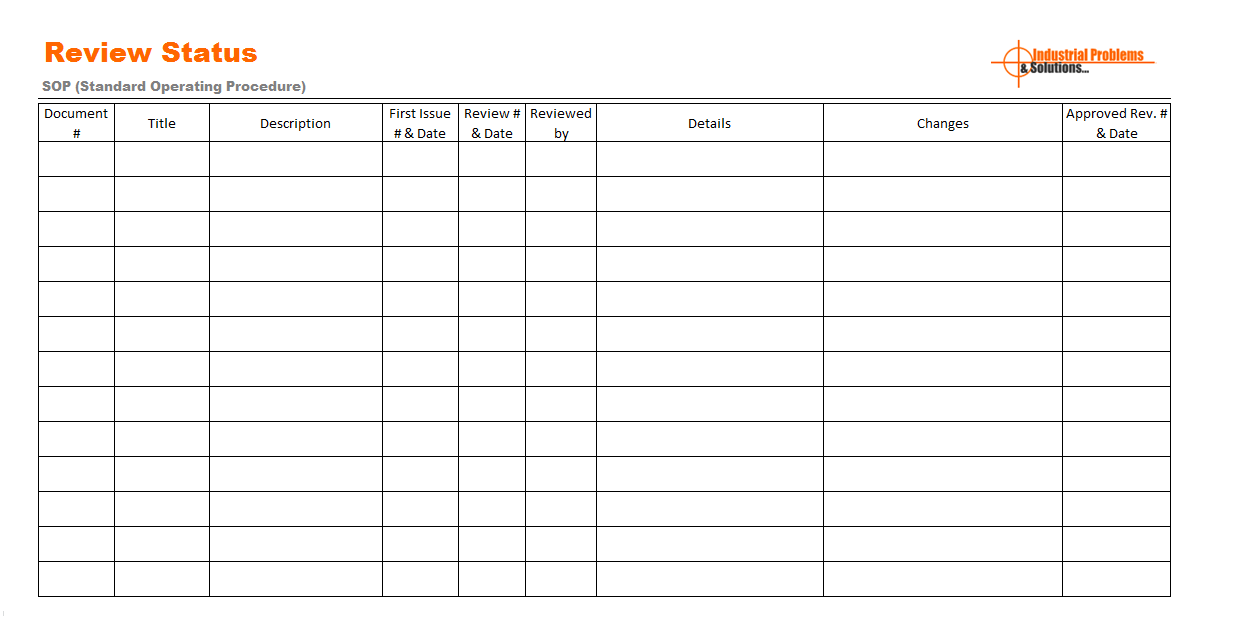 The team are build by two or more individuals with appropriate expertise. Generally, Team do review of draft copy of standard operating procedure (SOP) with standard requirements of manufacturing. Once the team complete reviewed and verification of SOP, implementation in production lines are managed.
Revisions and reviews
Standard operating procedure (SOP) is prepare for product and process requirements and activities. Whenever any management change, customer requirement change or internal process change may need to change SOP. Generally, management personnel are authorize to modifications and update in standard operating procedures. First of all, you have to define the standard periodical review system. The review conducts to ensure that the organizational terms and general procedures match with appropriate requirements.
——————————————————————————–
——————————————————————————–