A cleaning process is important stage of maintenance works it can be perform before and after of each maintenance job completion.
Overview to cleaning process
The cleaning process is conduct in the various areas, locations and processes at workplaces, to maintain safety and cleaning.  Even to enhance performance tasks at any level, the cleaning of each locations, areas and during any process is important for any organization. The maintenance tasks is one of the important process that conduct to accurate machine, equipment and concern devices use in the manufacturing, assembly etc..
Processes that necessary task are manage, the maintenance tasks are conduct to making and maintain accurate that its frequency and priority are important for rest processes. During the maintenance tasks cleaning is equally important to performing best job on cleaning conduct before and after of each maintenance works.
Cleaning Schedules & implementation
The maintenance team is conducting repair, replace or servicing to machine, equipment as needs, during the processes team needs to care of cleaning of each parts, machine areas, around areas, and internal parts to increase performance of machine. Hence the in-process is important and in same way before the conducting maintenance tasks needs to proper cleaning.  To re-engineering and extracting parts from machine, equipment to easier for perform tasks, same ways re-assembling processes are also needs to proper cleaning.
On after completion of job maintenance team is responsible for the clean the machine, around areas. Which is prime responsibility to remove oil, grease or any other dust can down the performance of machine.  As well as operations, the after maintenance tasks is should be conduct all require cleaning processes and its part of discipline too.
Awareness of cleaning processes & Maintenance activities
Cleaning processes after maintenance awareness, how to clean and why it is require?. The basic questions and its training are needs to provides all the maintenance engineers. As well as supporting peoples to accurately conduct the cleaning tasks on before and after completion of any maintenance activities.
Its important to educate people working with maintenance tasks. Even should be well aware of requirements of machine and area cleaning for safety. The improvement of performance to avoiding disturbance of machinery and resources.
Management commitment & Training
The management should be involve in activities of training to encourage peoples to join the training programs. They also for provides resources to organization as requirements. The training is best option for improvement cleaning after maintenance tasks. On awareness of peoples, and making the sustain the cleaning process after maintenance tasks needs to proper documentation.
The peoples keep the system that reporting to management can impacting on individual growth and reputation of person. That aware the condition of requirements of cleaning that managed very tasks with responsibility. Hence the documentation is important part that helps to sustain cleaning process after maintenance activities.
Cleaning Sign off Sheet
The documentation is generally use for recording information of cleaning process is cleaning sign off sheet – After maintenance work. See picture below given as example format for education purpose only: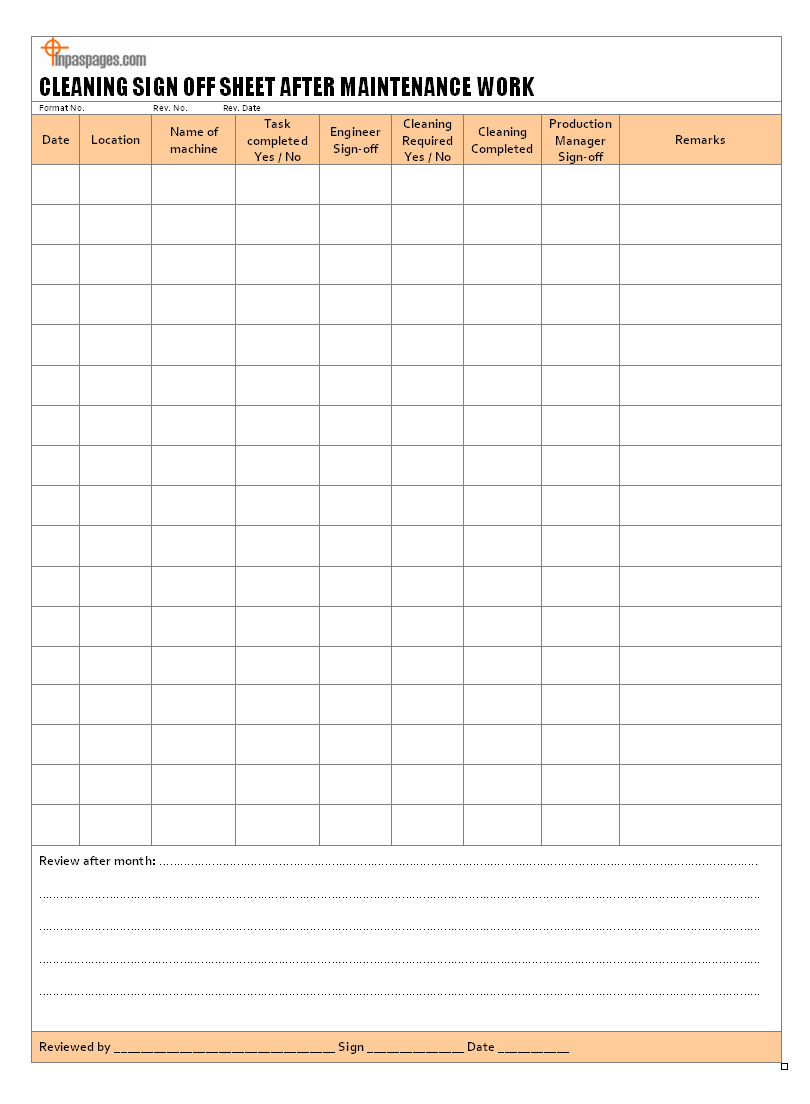 Cleaning sign off sheet after maintenance work format is use for recording information of daily or regular tasks. That  may conduct by maintenance department and on completion of tasks. The requirements cleaning at maintenance work had performed. The format is use to recording, monitoring and evidence of cleaning tasks comply. The process is maintain properly because in the format needs concern department supervisor / manager sign on completion of cleaning tasks as maintenance works. The documentation for the cleaning sign off sheet after maintenance work is maintain and update as per documentation system.
—————————————————————————-
Download format in word document | Excel Sheet | PDF format
—————————————————————————-