Daily safety inspection form
To maintain safety in workplace, daily safety inspection is necessary by inspect each employee's personal protective equipment and safety equipment which is used during the operations i.e. manufacturing process. According to health & safety and as per government requirements each person should be fully equipped by personal protective equipment during the working time, so its very important for the peoples working in workplace and also for management to each person use personal protective equipment during operation.
Safety in workplace is responsibilities of each person working in workplace, hence daily safety inspection responsibilities of management representative of health and safety system along with safety manager, to support of concern department supervisor inspection of the workplace can easy for perform to maintain safety in the working areas. Management representative assign duty of qualified person for the performing task of inspecting the each areas for the safety & gap of the hazardous activities, process & behavior in workplace.
Daily safety inspection is daily task that need to perform as per schedule, its concern with human that very important to awareness of each person about personal protective equipment and hazards in routine process. Safety manager or management representative arrange the schedules for the each safety auditor i.e. safety inspector for the daily safety overview in the floor level for the observations and checking of personal protective equipment used & maintain.
Daily safety inspection is simple audit that inspector visit the plant and observe each activity, people behavior and peoples are wearing personal protective equipment during any operation, in case of any person found without personal protective equipment that needs to report at supervisor for the person had not follow the safety rules, if person use the personal protective equipment on supervisor instruction that is ok, in case having any trouble with personal protective equipment or any other reason are show for it that needs to reporting in the daily safety inspection form as comment for discuss with safety manager. Safety inspectors' all observations, checking and inspection details are manage in daily safety inspection form, here as below provided format which can use for daily inspection process: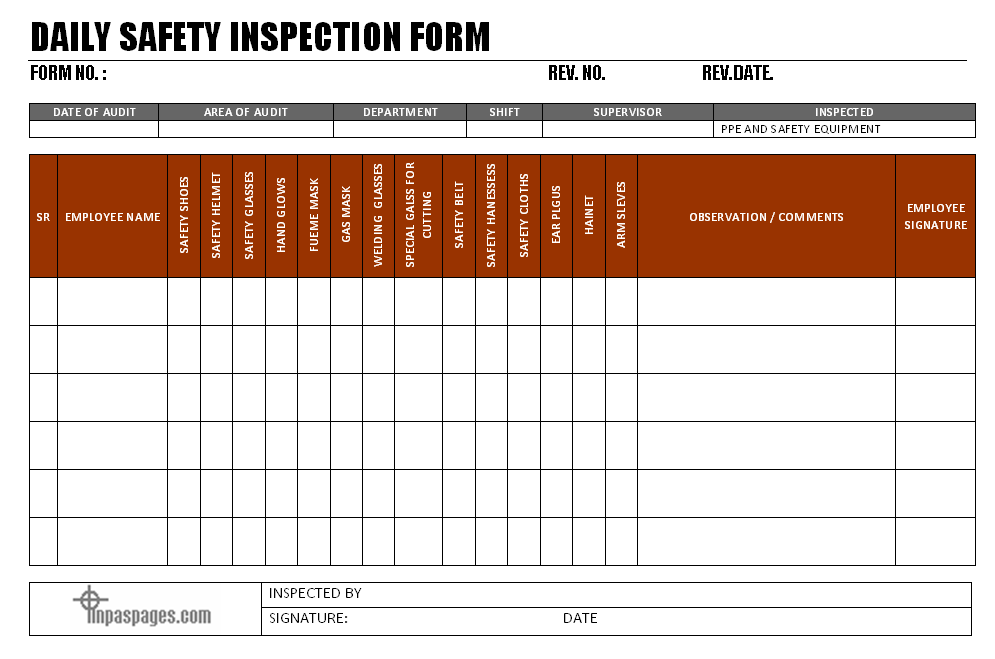 See picture above, given details of the daily safety inspection in form format, this format is use by safety inspector by simple tick marks and observation / comment as see in the plant. Safety inspector are use this format on daily basis, this format helps to ready information as checklist format to easier for focus on personnel activities of workmen at floor level, in the daily safety inspection form having field are simple to use like employee name, all the available or required personal protective equipment and safety equipment for the manufacturing, working process in the company, observation/ comment field and employee signature.
Example:
When the safety inspector are observe that in case any employee had not use safety helmet then safety inspector will be name of the person and blank the field of safety helmet and comment about it, in case any argue by employee for not wear helmet also involve statement of employee in comment column, and against its name employee will sign as agree for observation wrote on it.
EXAMPLES, SAMPLES & FORMATS
You would also like to read: