Stoppage analysis
Stoppage analysis process is established to identify breakdowns and time wastage in manufacturing processes, the system helps to determine action to reduce it.
Stoppage analysis process is prepared, maintained and update for managing each breakdown / stoppage occurred in manufacturing processes with machinery, equipment or any instruments, or due to any other reasons are conducted, and all the information are used for the analysis to identify wastage of time in manufacturing processes that directly affected production, hence the analysis is also conducted for the which machine is much efficient and productivity and which one is lower performed during the year, the records are maintained for years and its information are conducted from production department. In the stoppage analysis various analysis are conducted for identify time management requirements of manufacturing processes to establish proper time management and improvement of productivity of each machine. The analysis is managed machine wise stoppage records and its percentage for comparison with other machine, and general month wise analysis to identify source causes of stoppage of machine. The stoppage analysis is important part of manufacturing processes that on base of the improvement concern machinery and processes are managed and management determine actions to setup requirements of resources and manpower management are depend.
Stoppage analysis process is established by manufacturing department, general manger / work manger is responsible for deployment of proper procedures, system and activities to easier for managing records of stoppages from manufacturing processes and conducting records from production lines to arranging analysis of each machinery installed at various places of manufacturing, the procedure deployment, monitoring and controls system deployment and effective apply in manufacturing processes are managed by general manager/ work manager, and also responsible for identify source causes of stoppage and reasons that reducing working time that directly affect productivity of machinery, not only failed machine but due to line breaks, other machines are also effect when failure occurred in production line. Analysis teams is conducting records from manufacturing processes and manage in single format is stoppage analysis format, see picture below given as example format of stoppage analysis for education purpose: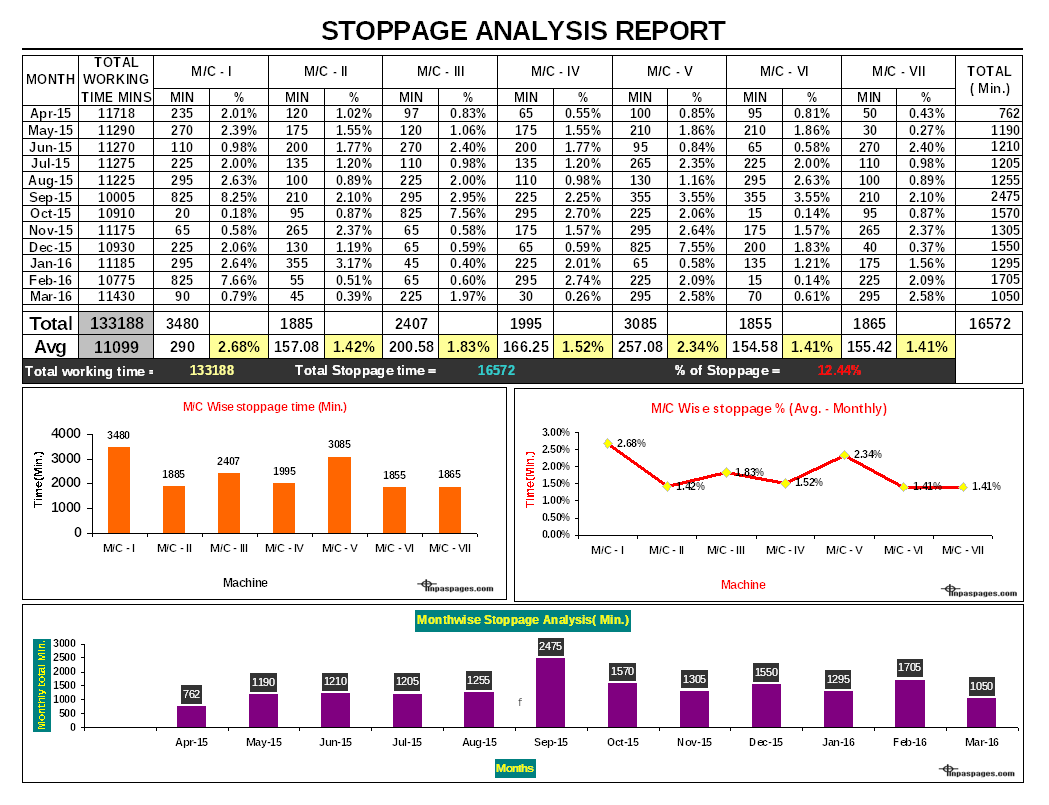 Stoppage analysis report is format used for managing analysis the records are collected from various department, various places and machinery are used for manufacturing activities, when any machine breakdown occurred that records are conducted, same the records are maintained for the month, those records are collected and manage for stoppage analysis. The stoppage analysis report is prepared for the identification of the individual machine efficiency, breakdowns and reasons due to stoppages are occurred during processes the materials. The records are managed for year, and same the analysis is conducted and improvements are determined by management team.
————————————————————————–
Download format in word document | Excel Sheet | PDF format
————————————————————————–