Table inspection documentation for product quality
Table quality inspection for product and its documentation are established to maintain records of quality inspection activity & identify and record defect information.
What is table inspection?
In some engineering products, spares and parts, which are easy to move and needs to deeply examinations, and product are possible to inspect on table by visual & by mechanical, chemicals and other properties testing that products are managed for quality inspection on hands. Table inspection is provides complete inspection or assembly processes to conduct inspection by qualified inspectors, hence product is easy to inspect on table that conduct quality process to adjust height, managing surface and other requirements are complied hence its important to inspector manage inspection easier ways and perfect as per standards and with fully controlled.
Table inspection documentation are prepared and maintained for conducting table inspection for identify product quality and defects, reason of defect recording during table inspection processes, the documentation are conducted for managing and systematical information of product defects & total inspected materials, analysis of defect products and managing product quality and its percentage of product are identified during inspection process. Table inspection is important part of quality department and all the activity of table inspection documents are records & manage for further actions requirements on product quality, the system is helps to identify defects in product, the defects of product can be in various types, the product defects are generally due to raw materials, processes defects, machinery and equipment defects or any other defects are identified during table quality inspection.
Table inspection documentation is prepared by quality department to conducting task of quality inspection to identify defects in product, quality inspection processes are conducted by qualified inspection and also filled document along with ease stage of inspection, the document managed by quality inspectors is table inspection record sheet which is filled and submitted to quality manager for further actions for product and defects are identified during inspection process, see picture below given example format of table inspection record sheet as education purpose: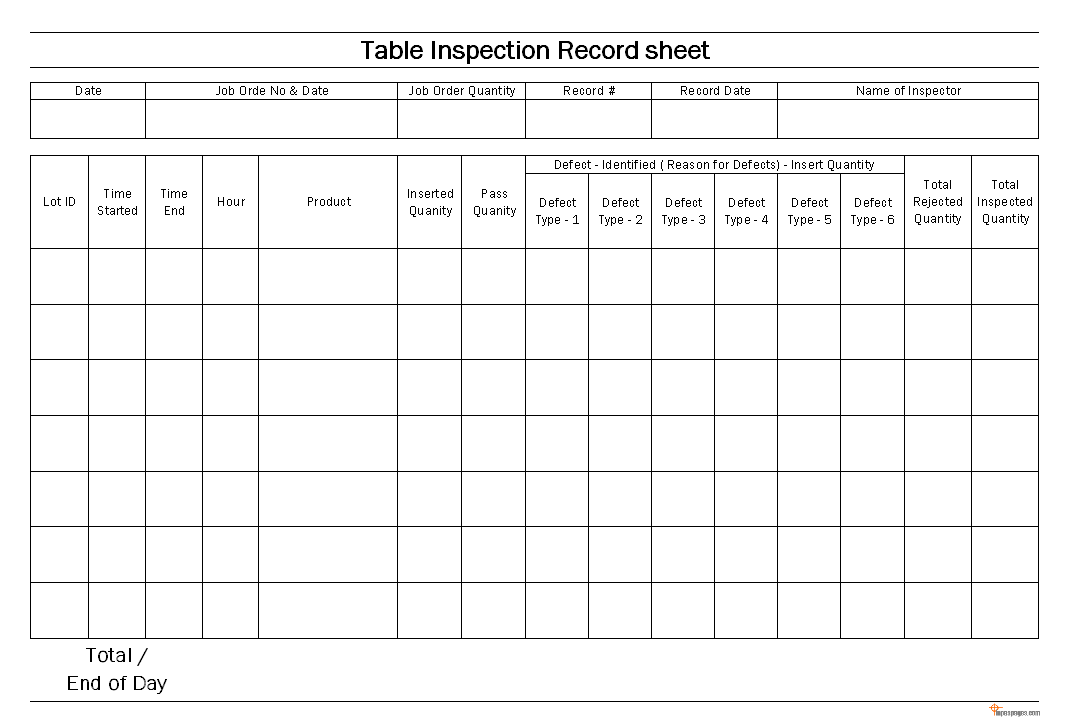 Table inspection record sheet is prepared by quality department for conducting quality inspection of product quality and identify product non-conformance, product quality is depends on the raw material used that quality department is identify raw materials defects, in case the raw material defects are identify more than acceptable level that quality department immediate communicate with raw material purchasing and storage department for identify causes of defects are identify in raw materials, same as in case the manufacturing / processes or machinery and equipment defects are identify exceeding that concern department is responsible for identify sources of cause and immediate actions needs to appropriate defects identified by quality department.
The document is important for quality and also for management that on this document of quality is describe product quality, customer satisfaction is depends on quality of product that on each stage of quality is improve guarantee of product. Quality department is conducting and recording this document for further actions and future impacts on other processes and department for improvement in appropriate requirements.
————————————————————————-
Download format in word document | Excel Sheet | PDF format
————————————————————————-