A variation order is actually amendment that may be for increase or decrease the works from original contract works. It may change the scope of works due to any cause or various factors.
Introduction
Variation order process conduct to managing variation of product or process concern in manufacturing facility. The product or process variation order process is acknowledgement & arrange facility procedure. To allow variation in product or process to meet the customer orders or as per quantity require in production line.
The variation order process is request are manage by concern department to production manager or general manager. To allows variation and order to manage variation in product or process accordingly.
General Process
The variation order process is manage with full process of reviews or customer order and job order that insert in manufacturing processes. Each variation order are manage for the concern authority approvals, in the variation order process are conduct by management for review the records.
Related customers
Customer requirements, internal system that needs to manage generally in manufacturing processes sequences and interactions are verify to match requirements of final product. In process in case any process or product concern requirements are needs to change. These may variation in the process are manage by reviews, design processes, process engineers and production management are conduct for approvals to enable variation orders.
In-process &
Variation order process is manage by production / general manager on internal requirements, external requirements of management change request to manage variation in product or process. In the variation order process concern requirements are manage by management. Its documentation that is procedures, process of variation requesting and approvals, reviews of records and requirements of internal system.
The approval process
The machinery and equipment requirements, customers specification and technical requirements for product and end applications are consider for approvals. The approval process is also manage internal changes, process changes and its sequences and stage change to meet product requirements. Variation in product minor deviation, sizes and dimensional variation are common in variation processes.
Variation process is manage on request of customer end, internal department request for variation or management fill for change any process or product dimensional variation. To ensure the product quality, product standard sizes and requirements by effective change. The Variation order is one of the important part that occur when any requirements of change in process, product or any concern stages are needs to change.
Changes & Improvement
The applicable change are manage on request of internal or external sources that manage in variation order request form, and all require information are manage accordingly. The process of variation first stage is to approvals of design team for verification as variation request. On approvals of design team production team is verify the records and request. To ensure that variation request and applicable changes will be manage as product requirements. The approvals of production team, all the records are manage by management team for reviews and final approvals.
Once that approval processes are done as define process of approval that require change are makes effective in production lines. See picture below given as example format of variation order request form for education purpose. The variation order request and its concern process manage accordingly.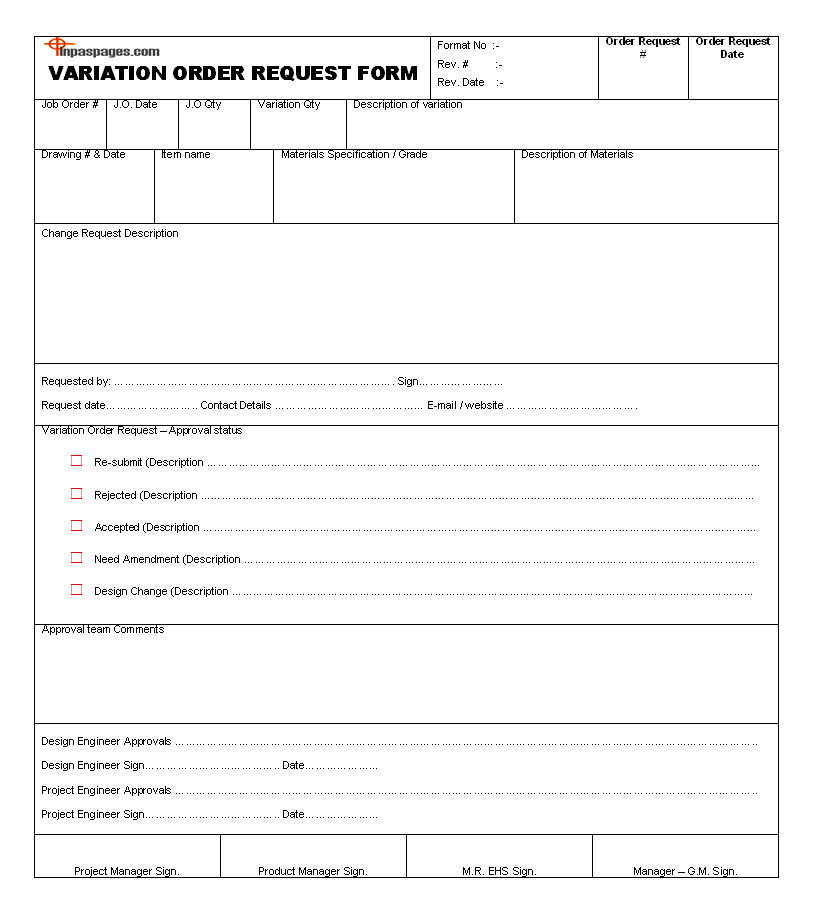 Variation order request form format
The variation order request form format is use to recording request information of variation concern product or process. That applicable when request having with internal or external requirements to concern process or product change to meet end application. That is customer satisfaction and technical requirements. The format are manage by concern department, the records are submit to production or general manager for further analysis.
This form and concern documentation are manage for analysis of general variation occurring in manufacturing facility to managing planning accurately. Enhancement of communication with customers and improvement of product to considering end application requirements.
————————————————————————–
Download format in word document | Excel Sheet | PDF format
————————————————————————–