Vendor qualification checklist
Incoming material quality inspection is very necessary, as same the material are manufactured companies maintain its quality are also very important, international standards are focus on the applicant company maintain its quality with its supplier also maintain quality to ensure the raw material is fully quality product to maintain customer satisfaction. In the TS 16949 – technical specification requirement is the international standard that strongly believe that the not only company its internal system are establish, maintain and continual improve, but also focus on the whole supplier chain are go on higher quality satisfaction.
To comply the requirement of the quality system that the vendor should be qualified at the time of approval or the material are going with purchasing. Vendor qualification is important part of the quality system that TS 16949 are maintained by company. As same not only just quality systems maintain internally as well as vendor but also continual improvements are taken along with vendor too.
To comply requirement of the vendor qualification checklist, here ready made format available for download, some basic question that primary level are given below:
Vendor has approved quality System?
Vendor has any internal system viz… ISO 14 K, OHSAS 18 K?
Vendor is able to provide samples?
Vendor provided its Raw material source details? Material Test Certificate?
Vendor ever audited by its customers? For which system?
Vendor is agreed for audit by us?
Above questions are basic and need to ask as primary level that is important too, as your organization requirements, can possible to add, remove questions.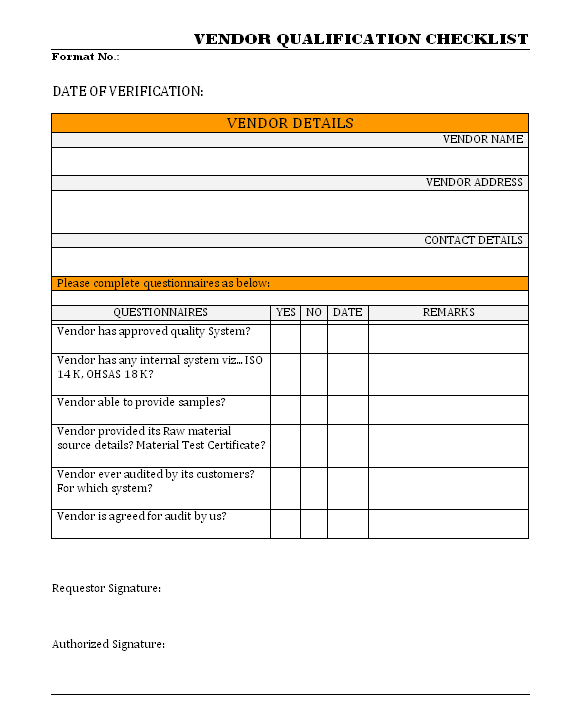 EXAMPLES, SAMPLES & FORMATS