Quality assurance plan for incoming material inspection
Quality assurance team prepare QAP (Quality assurance plan) for incoming material inspection. The team ensure that the quality of incoming materials is as standards, technical and special characteristics requirements are met as per ordered.
Introduction to QAP
Quality assurance team prepare QAP (Quality assurance plan) for incoming material inspection. The team inspect the incoming materials, to ensure the materials having standards, technical and special characteristics requirements are meets as per ordered. Quality team also inspecting the materials which can direct impact on product quality. Such as chemicals, tools, spare and parts of machine etc.
General process and role of individual department
The procurement team responsible for the provides details related to materials are:
Request note for inspection to quality assurance team.
Material identify for quality inspection processes.
Documents related to incoming materials has received.
Quality team is responsible for:
Preparation of quality assurance plan for each material are received by procurement team.
Includes the technical, standards, product specific requirements, Product parameters and special characteristics for conduct inspection.
Quality assurance plan includes details of measuring instrument, planning and respective used.
Quality Plan – Difference of Uses
Where use quality plan?
Quality plan can use for incoming materials inspection, to ensure incoming materials quality.
Quality plan can use for final product inspection, to ensure final product quality meets end application requirements.
What is really difference of use?
Quality plan for Incoming materials & Final product, both are preparing by quality team, but:
The quality plan for all incoming materials & final product quality plan, both are different things. Both are prepare & implement by different requirements and criteria.
Quality plan contents, test requirements, and end users are different in both cases, but motive is same. The identification of quality of materials and verification for the meet requirements as end applications.
Simplify the process & communication
The procurement team is purchase the materials as per internal customer requirements. The team communicate with end user (internal customer) for material requirements and requisition for technical details. Mostly more attention require, when going to purchase the critical materials and raw materials. When Consumable and other materials are procuring as per system. The procurement team is ordered the materials as per end user requirements.
Purchase team is sends request note to quality assurance team, once the materials are received. This request note is for the inspection on the incoming materials. Quality assurance team is preparing the quality plan as per technical, standards and product specific requirements. Generally, team conduct all the incoming materials as per request note received. its results are providing to procurement team for further actions.
See picture below given as example format of quality plan for incoming materials as below: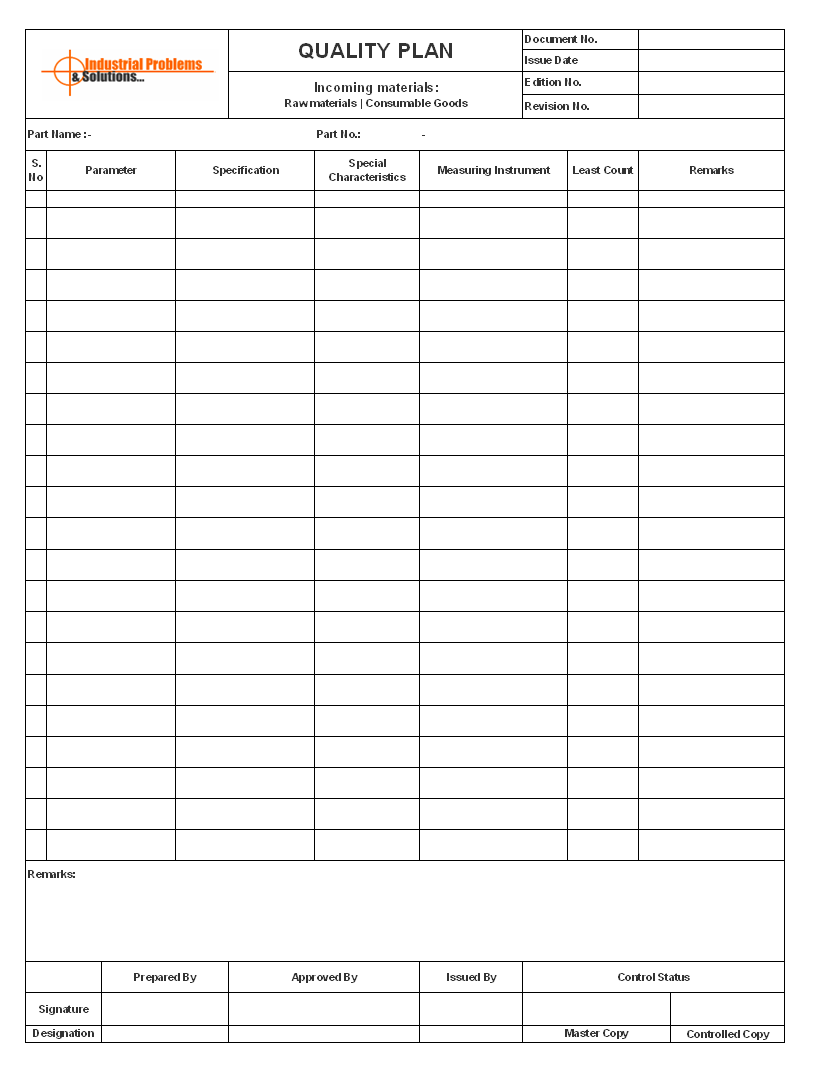 Conclusion:
Quality assurance plan and its inspection is decision making process. Hence all the processes should be conduct to considering applicability of standards.  Review team verify documentation for the quality inspection, test results and analysis report are as per standards or not. Same the documents are provides to related department for reviews and further actions.