Waste Evaluation form
Waste & scrap is headache for each organization, process scrap, product scrap, packing waste etc… Waste and scrap is generating from the various processes in organization, its storage and disposal can be challenge if organization is not properly arrangement is done.
If the organization are created some arrangement than its maintenance are also important at its place, for the all the activities are done properly are inspection by the management peoples or give some responsibilities to employee who the checking the requirement for the storage and maintenance of the waste and scrap, for checklist of the waste evaluation, basic points are given below:
Is the Scrap turn over off uncovered?
Is there dust bins roll off uncovered?
Is there facility / out door spills are found?
Is there proper arrangement for disposal of solid waste / liquid waste / paints / rubber scrap / fiber scrap?
Is there any handing procedure of highly combustible material? The material is properly identified? Properly stored?
Is there a workman who handling the waste material is familiar with risk and precautions?
Is verification carried out for standard weights?
Is the hazardous waste / non hazardous waste are identified?
Are there unlabeled bottles / containers / drum etc.?
M.S.D.S. of hazardous water is available? Handling, storage, Preservation, fire protection has to be in line with MSDS.
On base of the some question that, all the information are covered to ensure the system is working properly that is waste and scrap is collection, storage and maintenance of the storage are is properly done, disposal processes and requirements are strongly follow or not are checked by inspection checklist format is waste evaluation form.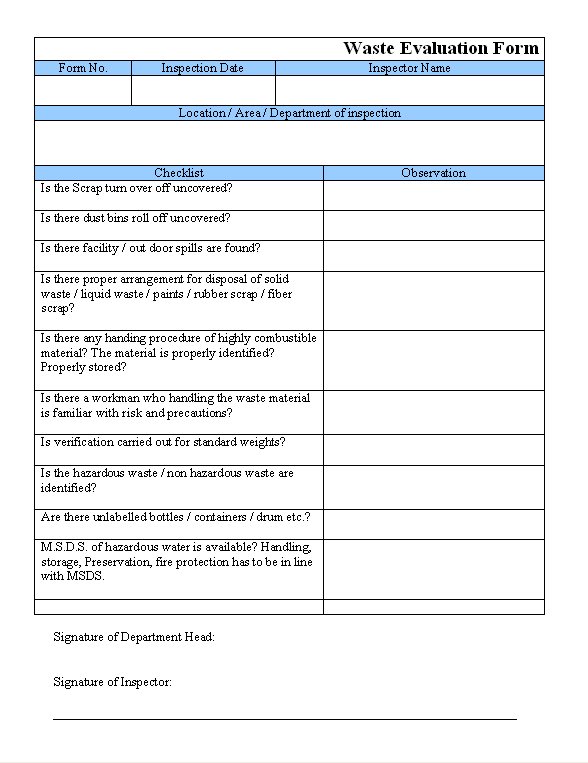 EXAMPLES, SAMPLES & FORMATS
You would also like to read: