Waste Record sheet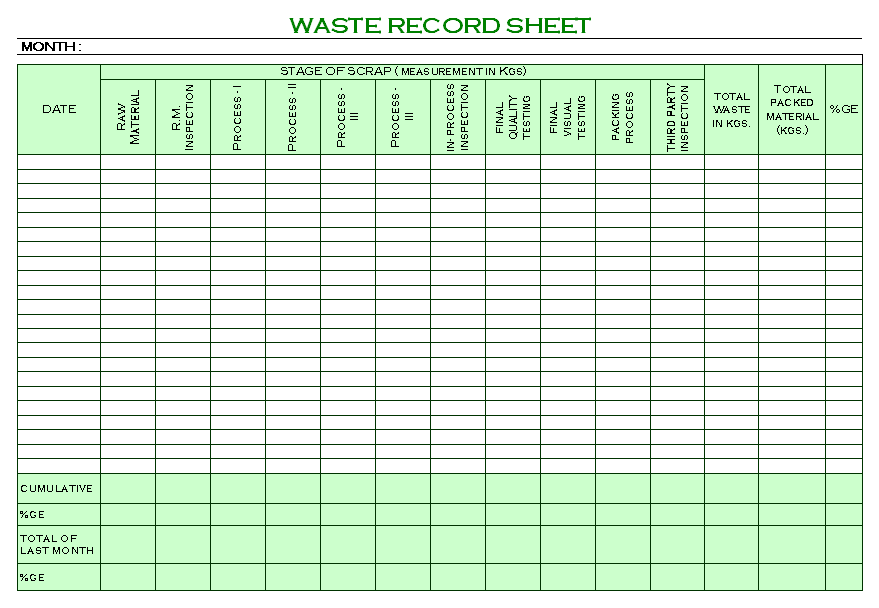 Waste record sheet is systematic documents which establish, maintain & update for provide of identified waste generated from processes.
In the manufacturing process & other process are generate waste that need to identify & record for the properly storage separately to easier for maintain and disposal. Waste record sheet is primary document for the waste management, if want to proper waste management needs to identify waste type of waste; separate storage system and each storage system should maintain its waste type properly.
From the waste generated from the processes, for recording purpose here as given sample format of waste record which is mostly details are need to fills as below:
In the waste record sheets are maintain monthly or convincible as wastes generating from the processes, here given the format that is recording information from the raw material, raw material inspection, various processes, in process inspection, quality testing and inspections, packing and third party inspection which from waste are generating. Generated all the wastes are need to measure in single measurement to easier for analysis and record information.
EXAMPLES, SAMPLES & FORMATS