A hygiene inspection checklist is document may contain the points that may use to verify food storage, processes or any place to ensure hygiene condition. Normally, this checklist may widely use at the food processing units.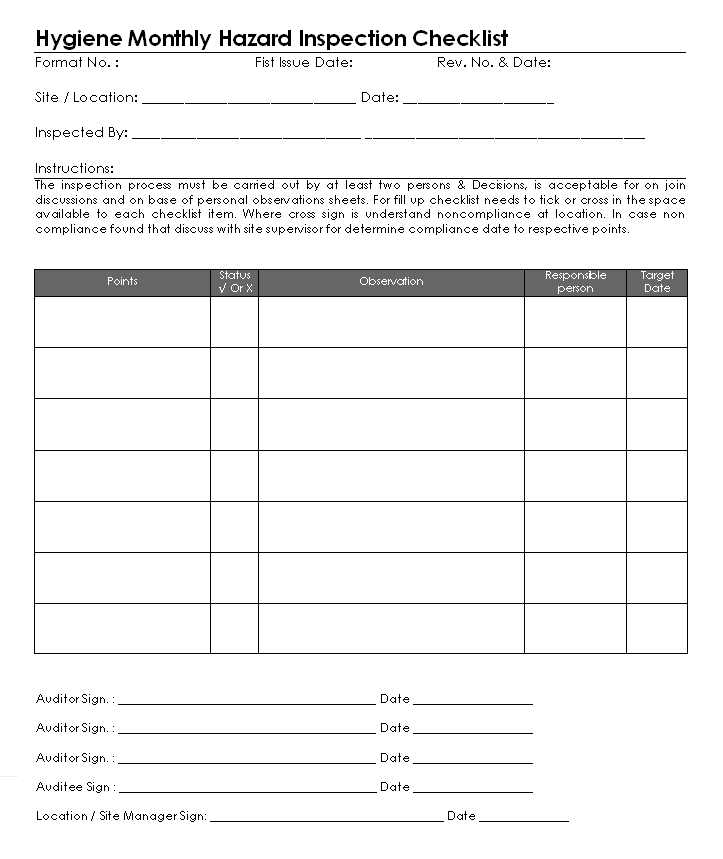 Overview to Hygiene inspection checklist
Hygiene inspection checklist is very important part of the OHSAS 18001 and OSHA. When the company follow the international standards. That needs to compliance of each guideline and clauses that required fulfilling the concern issues of the employees' health and safety. Here some requirements are tried to merge in this checklist format. In the hygiene inspection checklist, what mostly points are need to cover for the compliance requirements of OHSAS & OSHA respectively:
Kitchens / Storage Rooms / Change rooms etc.. are need to frequently inspect. To consider requirements of hygiene, hazardous activities or things in available areas for the employee hygiene.
Personal hygiene is also very important that need to consider as priority matter. It need to inspect periodically, in the personal hygiene. Such as uniform of employees, laundry & living quarters, cleaning of rooms, proper ventilation, lighting at living and others rooms in use.
There are dozens of requirements that needs to fulfill for the eliminate possibilities of hazards. Normally employee health concern issues, this very important for the company. All the requirements of the government for the employee health and safety.  As well as international standard requirements compliance are important role are plays. Even that given advantage for the company for the growth in the business indirectly.
EXAMPLES, SAMPLES & FORMATS: Download