What is deviation request note? Or deviation request form?
Deviation request note is request to change standard process for any particular order to save expenses or save time on base of best practice. Deviation request notes are very important communication form or method. The deviation request note used for request or in form of order to another department / personnel for skip any particular single or multiple tasks. This format can be also used for jump the process or amend temporary standard operating system.
Why deviation request note is required?
As we seen deviation request form / note is specific request note to amend any jobs steps for any short term delivery requested by customers. Or save money of company without affect or quality of products.
This is most important part of the whole process is consider that quality of product will be same after skip or amend any procedure. Without any compromise with standardization of procedures and standards which company follows.
Deviation request note can be many types; we consider here two kinds of deviation notes:
Process Deviation request note
Product Deviation request note
SOP (Standard operating procedures) which is reveal best practice of company or word instruction or job orders are follows whole production line. In case of any department's person require to change standard operating system, W.I. or J.O due to some circumstances. That movement person can send filled deviation request Form / note to concern department's personnel. With request to grant the permit to do as deviation request Form / note described.
Addressed personnel having the rights to approve or reject deviation request form / note. With reason of rejection, else if approved there is no issue.
How to create deviation request note format?
Points to be consider for deviation request note as below:
Date of requested
Serial No of request note
Name of attention person & department which to addressed
Deviation requested for what: it's a process deviation or product deviation?
Very important part of the deviation form is "Why required to gives deviation request note?"
Estimated deviation times
Deviation required for which part / job number / batch no required.
Requester name and Department
Approvals names & designation, Department etc. details.
To better understanding, see picture below: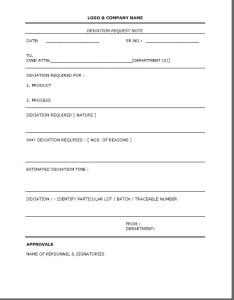 FREE DOWNLOAD DEVIATION REQUEST NOTE | FREE DOWNLOAD DEVIATION REQUEST NOTE IN EXCEL FORMAT | DEVIATION REQUEST FORM DOWNLOAD IN PDF FORMAT