Work request process and systems
Work request process and system is establishment to start new job and perform work for non operational task for compliance by system.
Work request process and system provides systematic management for requests on establishment new job and perform work for non operational task request given by internal department, establishment new job are raised by management, product manager or marketing team for planning and completion of task by request to concern department, hence non operation task request are given by internal department on if the equipment, machinery or any faulty process are identified that department is work request for perform task and comply requirements for fulfillment, all both task that is new job and non operational task are also can raised from customers that should be considered as the part of system of work request process and system. Work request Process system assist to identify non operational parts, process or materials in the system. Work request should in any form of task that are maintenance activities, process change, equipment repairing, material and product concern, machinery and equipment setup and installation etc, to tasks that need to completed by request of some department to another department or personnel.
Work request can be department to department, person to person, team to team or customer to supplier requests by any communication methods, but generally to maintain system in the internal as well as external communications that some method of communication are established by the management that is work request process and systems that helps to considering values of the requests and systematically progress on the task by some forms, sheets, records and documents support to manage process and system in the workplaces and with external parts of company that is customers and third parties. Contribution of the works are manage by receiver department on base of given request by department and condition, areas space and other requirements are joint contributions and mutual understanding should take a place to complete the task on time frame. The requester should be comply the requirements of the work request process and system by the right path of the form and format by fill up form of work request that is "work request form" which is part of the process and system, this form is fill up by requester department and send to concern department for the work request, see picture below for the work request form given for reference: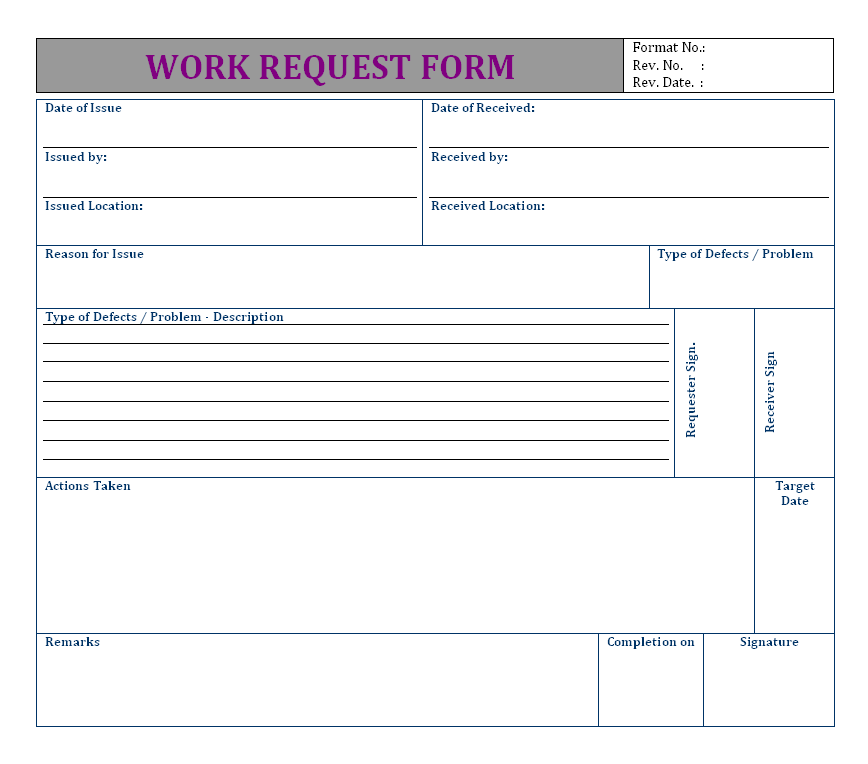 All the request are received by individual department should be manage by receiver department, hence requester identifies a need for work assigned department in nature of requirements of compliance, receiver department of work request form is conducted the process by collecting information from requester department about the compliance requirements, all the information are analysis by department to identify non compliance in the system and preparing action plan to appropriate requirements to complete the task. The team is review the information to identify root cause of the problem / defect / error or non compliance in the system. The generally root cause analysis to identification of the non compliance by conducted on base of some simple questions that what is the problem? When it was happen? Where is happen? Who is affected by the problem? And need to go ahead on identified root. The deadline reasons behind the defects / problems / errors or non compliance in system should taken effects by consideration of required measurement, action plan, policies and work out to commit the satiation for the solution.
On after establishment of the task that works progress report should be submit to department head for the communicate with requester department and if any further assistance required of requester department that should be given in written to co-operate in the works, status and update records are maintained by department to analysis and provided analysis report to management for the impacts and preventive actions on other department to eliminate possibilities to repeat defects / error / problems or non conformity within company.
————————————————————–
Download Format in Word Document | Excel Sheet | PDF format
————————————————————–