Document classification for quality management system
The process is established and maintains standard method for classification of documentation for quality management system
The purpose of process is established to determine system standard requirements and its method to classification of documentation, system records and concern documents to ensure the quality management system applicability in internal system will be effective and maintain quality in each process of management.  Internal management system i.e. quality management system is depends on documentation system that or documentation is base requirement to achieving quality system in company that proper documentation and its handling is primary need of quality management system. The classification of documentation is conducted on base of the standard method which is determine to international standard requirements, standard method should conducted on base of the standard requirement for quality management system. The establishment of standard system or standard method should be adequate to proper classification of documentation which is conducting all the quality concern, quality management system concern requirements, manufacturing processes, management supporting and financial supporting activities are covered and effectively implementation is enclosed. The process for classification of documentation should be applied and covered all the documents of management system and company concern.
The classification of documentation should be managing all quality management system requirements by systematical formatting, records & analysis documents. Quality management system is deployed and implement in internal management system for the product quality improvement, cost controls, time management etc.., by systematic ways which can be achieve by proper documentation, documentation is pivot part of the quality management system and for documentation, control of documentation is prime requirements to managing documentation system. Classification of documents' major documentations parts are control of documents, control of quality records and change controls of documentation.
The classifications of documentation are conducted by management representative who is appointed by management to conducting all the activities concern quality management system. Top management and management representative is responsible for the execute documentation and all quality management system concern procedures and process, and also to conducting and selection of qualified personnel for training to managing and implementation of documentation by training and instructions.
Classification
Generally document classification for quality management system and identified with unique section number which coincide with QMS for easy traceability is recommended as below:
Level – I Quality manual
Level – II Procedures
Level – III Documents / work Instruction
Level – IV Formats / Records
Before the implementation of document classification, quality management system's management representative should take the permission for establishment, maintain and update documentation system in company. Management representative send the letter to take the approvals from the company directors which all the document classification details are applied and given approvals in letter to precede further, see picture below is example format for document classification letter: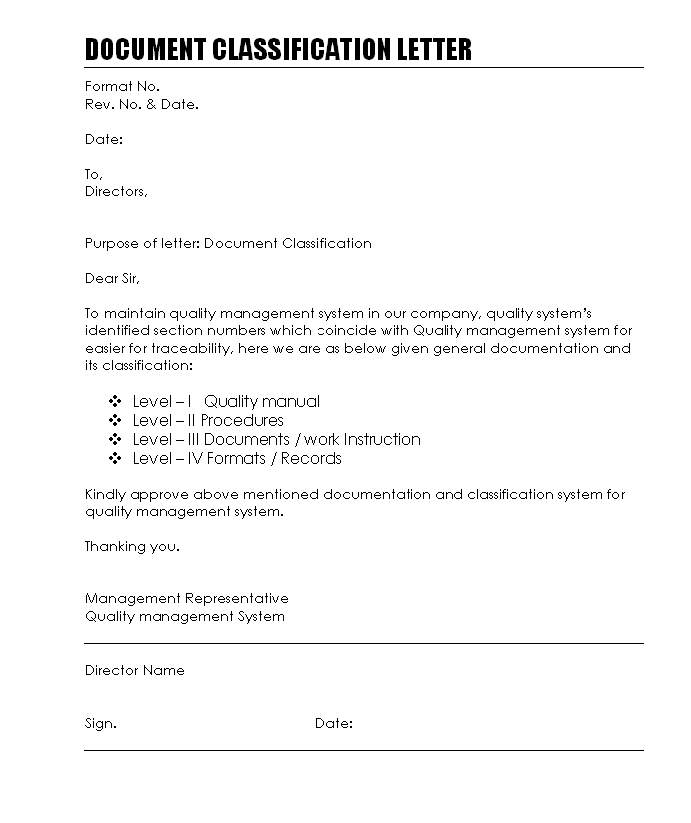 In the first level quality manual is managing which is prepared on base of the international standards for company level manuals as per internal management requirements, product requirements and level of quality requirements. On second level are procedures are maintained which also conducted on base quality manuals, quality procedures are instruction or steps that how to attend the manuals requirements in the company, which is general quality instructions are maintained. At the third level of quality system is document which the all documents concern quality system, external documents records, international standards, product standards and other standards records are maintained in document sections, product master records, product specifications, quality and other testing procedures, work instructions and guidelines, engineering and other process drawings in short all documentations and which are conducting information of manufacturing, services, internal processes and services information. At the level four is maintained all the format system where blank or filled checklist, document which is used in processes and its formats are maintained and its also quality management system requirements to maintain company required format separately to conducted and proper control over the format system for quality management system.
The documentation are reviews one in year, but whenever any system changes or any major changes happen or any new system is being develop that needs to review all quality management system document for the possible changes and amendment to corporate system requirements.
————————————————————————–
Download Format in word document | Excel Sheet | PDF format
————————————————————————–