Documentation for verification of new dealers
Documentation for verification of new dealers is established to conducting auditing and verification processes to ensure the incoming materials quality supplying by dealer.
Documentation for verification of new dealers is prepared, maintained and update to managing audit / inspection processes of dealer's documentation and activities to ensure the purchasing product from dealers, documentation and internal system of dealer to ensure that purchasing product quality. The process is conducted by qualified inspection team that managed and organized by purchase department, purchase manager is handle verification process for new dealer, where all the concern documentation, process, records and product verification are manage during audit processes and in case any non-conformance are identified that dealer should be comply accordingly.
The purchase manager is responsible for conducting documentation, dealer audit / inspection processes, selection of qualified auditor to conducting inspection process of dealer internal management system and determine actions to improvement of dealer product quality which is purchasing for internal used. For internal final product quality improvement and internal management system requirements are needs to comply each dealer's internal system audit and verification of product quality to provide best quality product with customers and compliances of end applications. The records are managed and arranging documentation by purchase manager, see picture below given as example format of dealer verification format for education purpose: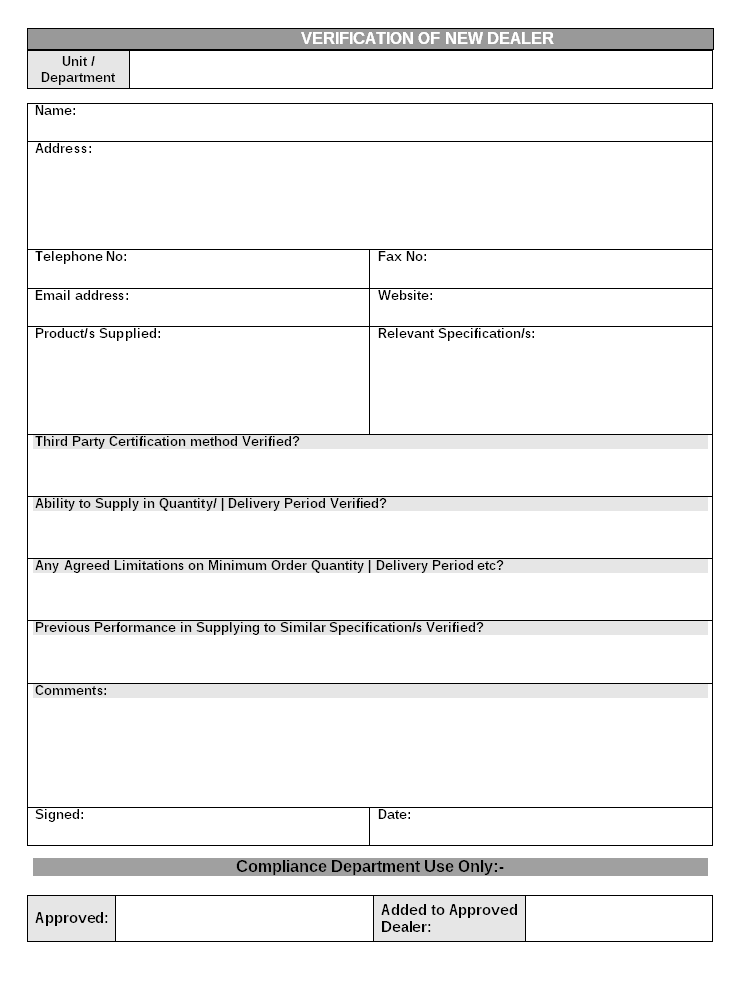 New dealer verification document is managed for recording verification processes of dealer's internal management system, certification of standards system, ability of the providing materials on time and quantity as requirements, and standards and specifications are managed as per product required, in internal management system and other requirements to meet end application of customers are consider during audit. The purchasing product quality and its delivery, time frame, standards, specification of product and capability are considered in verification process and same documentation are managed, update and submitted to purchase manager for further actions to determine for next deals for product requirements.
—————————————————————————-
Download format in word document | Excel Sheet | PDF format
—————————————————————————-