Environmental documents
Environmental documents describe environmental planning, schedule and programs to improve environmental safety & compliance.
Environmental documents are used in the organization to managing environmental concern planning and scheduling for improvement of safety and environmental issues due to manufacturing and some supporting processes that directly or indirectly raise environmental issues that needs to proper planning and programs that help to compliance of government laws and regulations that manage each requirements of controls on environmental issues due to production or any other concern processes are managed through documentation and implementation of schedules and program that managed in documents. The purpose of the environmental documents to ensure that environmental programs and schedules, planning is developed in minimization of the impact to environment by the manufacturing and supporting that is various operations conducts in workplaces of the organization. The environmental documents are managed according to:
Identification of environmental issues due to manufacturing, production lines and supporting processes are conducted in workplaces.
Manage each issue as per government requirements, laws & factory acts requirements, responsibilities and international standards requirements.
Planning for identified each environmental issues, distribution of each risks, hazards identified and level of risk for managing priority for the schedules to implementation of planning.
Preparation of environmental planning & programs that conducted for improvement in existing processes that manage and controls over the each activity to ensure that the environmental issues are eliminate or reduce significantly that should under the requirements of standards system and government laws.
The environmental documentation are handling as per planning documentation are managed, the implementation of each action plan are managed in the workplaces.
Environmental documents are managed to considering and deployment of required manpower, the personnel should be assigned duties and responsibility for various processes, monitoring and controls, verification and auditing the processes as environmental concern, the team is managed accordingly. Environment management system's representative is responsible for managing all tasks concern it, and building a team, assignment of responsibility, preparation of procedures and other concern all activity monitoring and controls are follow up by management representative to effectively maintain system in workplaces. The documentation are maintained as per requirements, see picture below given example of environment register for education purpose: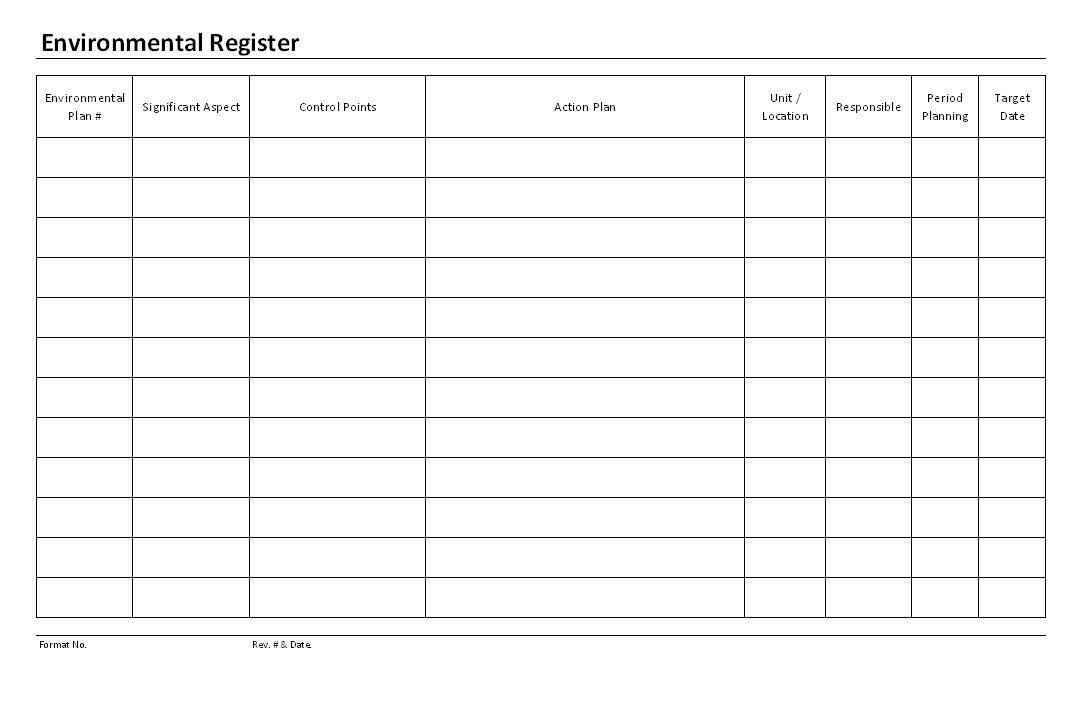 Environmental register format is used to recording environmental programs and planning against environmental issues are raised in workplaces, once the workplaces evaluated and identification of significant aspects that had an impact to environment by workplaces' various operations, processes that conducted in manufacturing activities, the concern department is establish environmental register separately or management representative of environment management system handled for whole organization where merged all department, and same the environmental plans are conducted. The identified each issues are managed in environmental register, and its action plan implementation, monitoring plans and its implementation, concern values of each activities that financially are managed with action plans that help to determine benefits & compliance of each issues occurred in working environment.
—————————————————————————
Download format in word document | Excel sheet | PDF format
—————————————————————————