Finished Food Products' Warehouse Inspection
Finished food products' warehouse inspection is the process to ensure finished food products required standards are maintained during operation of handling, moving and storage at warehouse.
Finished food products' warehouse inspection / audit process is conducted once the finished food product is storage at warehouses, the process is established to verification of condition of warehouse, warehouse system and monitoring on activities of warehouse to ensure storage food product required standards procedures, instructions are maintained during warehouse activities and operations with finished food product like handling of product, moving and storage at warehouse. In the food product management, some government laws and standard system should need to complied and each activities should be covered requirements of government rules and standard procedures, so its important that to considering end user health concern, food product manufacturing to reach to end user should be maintain product quality is important for food manufacturing company, hence finished food product storage is warehouse where some temperately hold the product where maximum possibilities of product affect during storage and handling so its important that each process & activity should covered standard requirements to considering food safety and quality.
Finished food products' warehouse inspection process and its concern procedures established by product manager and responsible to conducting each activity concern food safety, storage and handling at production lines and warehouses, hence food product safety responsibility of food safety manager and product manger and safety manager are equally responsible to conducting processes of maintaining food product safety, hence management is responsible to provides resources and arrangement of inspection, concern audit management are selected qualified inspector to inspection finished food product inspection at warehouse, and concern all documentation are prepared, handled and submit by inspection team. See picture below given example format of finished food product checklist for education purpose: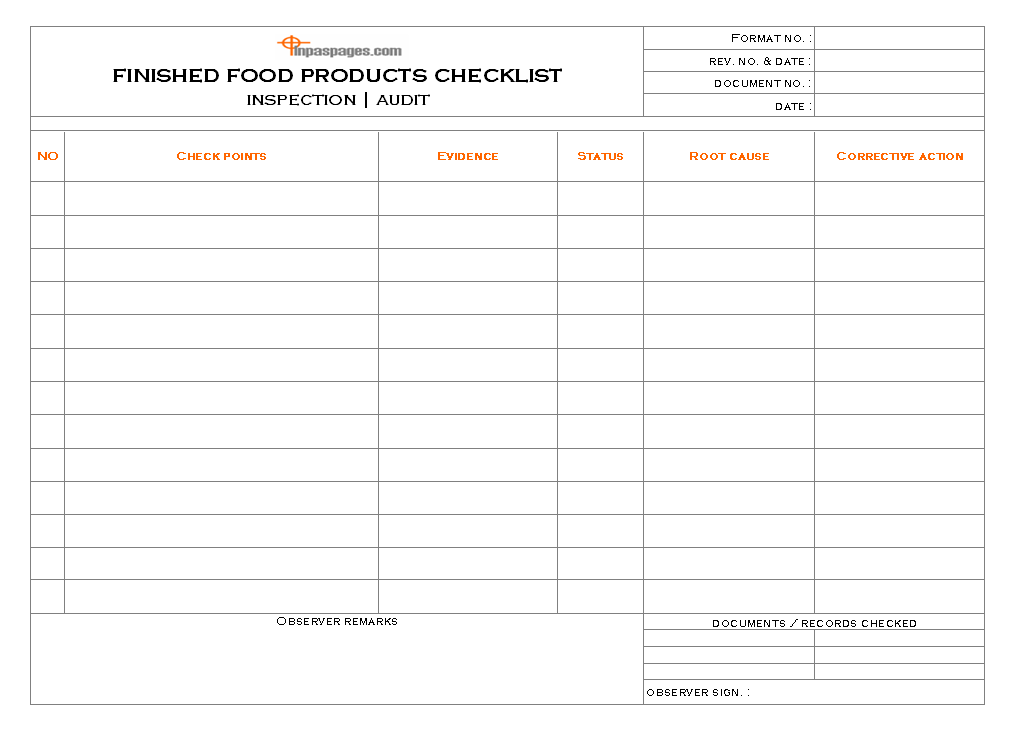 Finished food product checklist is conducted by food product inspection team, the checklist is used in warehouse inspection where all the activities are monitored and verify system to ensure the food product warehouse is maintained standard requirements and all the processes are conducted accordingly. Here as below given some sample points can use as finished food product inspection:
Whether finished food product warehouse is maintained all standard requirements and storage product as per norms? And is there any standard operating procedures, work instructions, safety precaution for food product etc.. Documentation is evident? Information / records / data are properly established and maintained?
Is there finished food product stock been maintained and updated periodically?
Whether all finished food product is stacked with ingredients identified? Each boxes / packages are labeled? Where material information like sizes, specification, grades, and categories etc… information is addressed?
Whether work instructions for concern peoples are deployed at possible to easier to read and follow? Each concern employee understands instructions? And follows?
Whether Food products are storage and stacked as per standards? Is there stacking heights, product stacking and space between to products are maintained? And each pallets way from walls?
Is there food products are properly enclosed to restrict foreign matters?
Whether any provision for rejected product storage? How the rejected food products are storage and what is the disposal processes?
Is there safety of food product is maintained during operation? Peoples are follow requirements during operations to wear shoes, glass, gloves, caps, and other requirements like eating tobacco or any other instruction can harm safety of food products.
What method is used for outgoing materials from warehouse? Is there FIFO is recommended method for warehouse?
Check there any unexpected materials are identified? Like chemicals, rubbish, nuts and screws, metal tools or any other materials?
Is there warehouse maintained dust free atmosphere?
On completion of finished food product checklist, inspection team is verifying other activities like a handling processes and other activities which can directly affect product quality and safety, once the inspection team satisfied with it that team is prepare report of inspection and insert any non-conformance are identified during inspection. Warehouse manager is responsible to conduct all non conformances and paraded action plan for compliance in line with non conformity. The report is also submitted to product manager and safety manager which are also responsible to contribute in product safety.
——————————————————————
Download Format in Word Document | Excel Sheet | PDF format
——————————————————————