Hot work permit
A permit to containing a checklist of items to be measured & granting permission to perform specifically intended works in workplace.
Hot work permit is permit format that involved checklist of the items to indicating the requirements of the safety in work place, requirements of the individual safety which personnel engaged in works activities should be feel the safe environment, granting permission for the hot works which are considered for the hazardous activities are manage by the some required criteria for the maintain safety in work environment.
What will be considering as hot work?
Hot work concerning the use of welding process
Spark producing equipment
Cutting & grinding process
Open flame can also considered as hot work
Burning process
For above mentioned categorized works perform in workplace needs hot work permit, but some time needs to work with flammable gas indicators or vapors which is explosive that also hot work permit needed.
Required Personal Protective equipment (PPEs) to perform task: Personal protective equipment for performing task not having a limits of PPEs, but generally following PPEs are necessary to perform appropriate works:
Welding glows
Tinted lenses / Specific lenses
Face shields / specific goggles for save face from burr.
Body Protection shield against sparks, slag
Fume Mask / Gas Mask
Hand glows / Safety Shoes
Role of Supervisors to provide environment
Department Supervisor – The responsibilities for the cleaning work areas, equipment to ensure proper controlling to initiate the hot work performance at the area, this task performed by plant or department supervisor to provided proper environment to perform hot work smoothly.
Maintenance / Supervisor – The responsibility for establishing proper process & method of communication that works will complete in a safe condition, all the equipment and tools that required for the performing hot work task should be provided & ensure all are equipment are safe for performance
Maintenance / Supervisor – After completion of the hot work, its supervisor's duty to inspect the works and conditions of the performed task. When all the required criteria are match with works that release for normal works.
Hot work permit format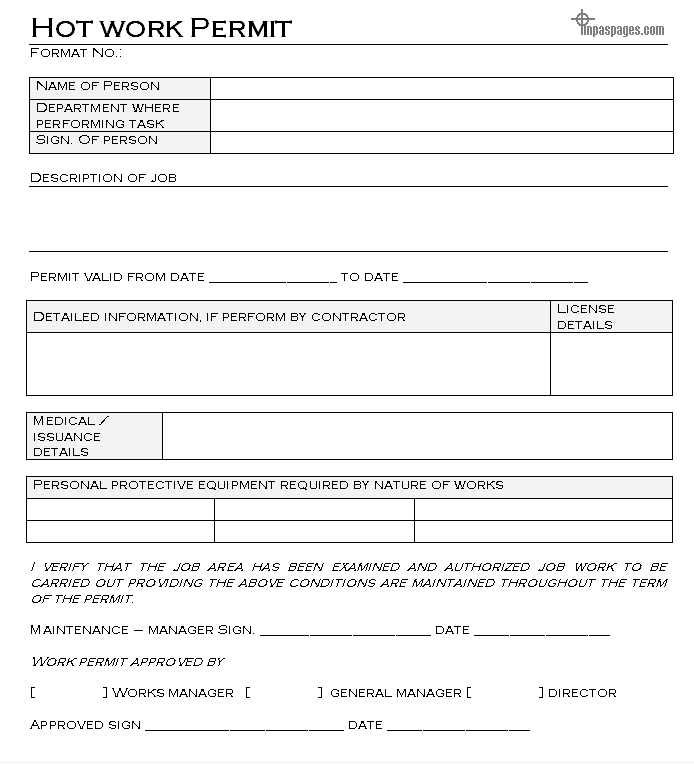 As you can see picture above, hot permit format should conduct below subjects.
Conducting the process of hot work should be monitoring & watch on the each activity by department supervisor as well as maintenance supervisor along with persons performing the task to proper inspection of the area, methods, process of hot work performance. Supervisor should point out appropriate safety precautions & personal protective equipment is held by persons whose conducting hot work.
The hot works permit where issues, supervisor should aware all the concern peoples and clean the area, all employees working around area could be know hot work is conducting to proper safety of the personnel. In the hot work permit are issues on base of the time validity, the duration of the permit shall be not long than eight hours ( standard working hours) in the day & until the end of the works next days task needs to perform. Hot work permit copy should along with department supervisor, maintenance supervisor and task performing personnel.
When organization needs to disposal of any non-hazardous materials needs to special permission from local authority, as well as pollution board as local government policy. see below format that needs to comply requirements summit to concern authority. Example Form:
How to use this form?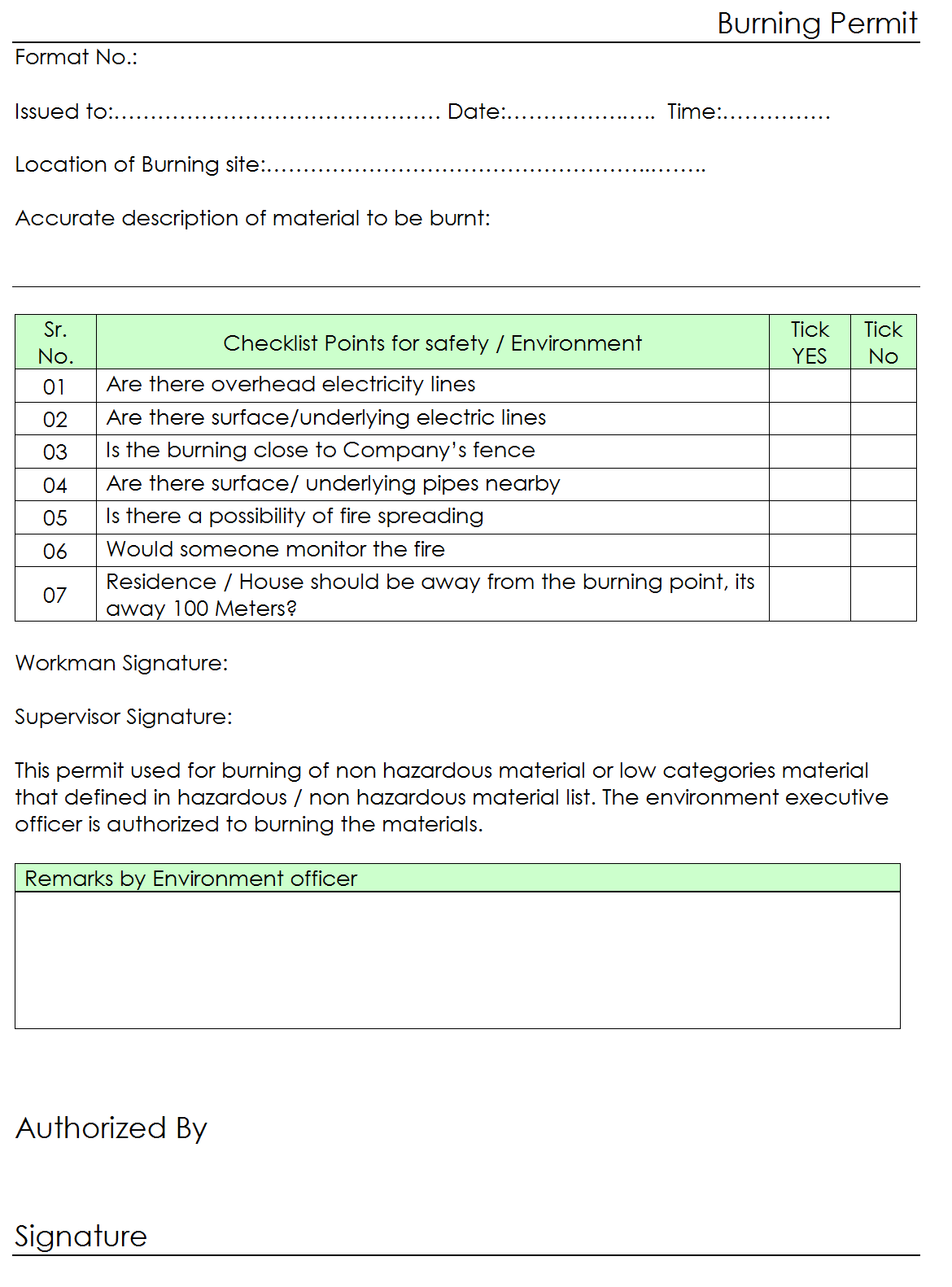 This permit used for burning of non hazardous material or low categories material that defined in hazardous / non hazardous material list. The environment executive officer is authorized to burning the materials.
Burning permits are only used when the materials are organic or non hazardous that bottom line of hazard's categories, with following checklist is too been consider:
Are there overhead electricity lines?
Are there surface/underlying electric lines?
Is the burning close to Company's fence?
Are there surface/ underlying pipes nearby?
Is there a possibility of fire spreading?
Would someone monitor the fire?
Residence / House should be away from the burning point, its away 100 Meters?
All above points, if not follows strictly that can be raised very critical accident, human injury and financial losses. For the critical aspect for the environment need to be a follows the information, permission need to perform. If you are feeling to need this format to use in your organization that you have to download its, after download you can add, remove or modify any field as your requirements of your organization.
EXAMPLES, SAMPLES & FORMATS