Overtime schedule management
Overtime schedule management established to managing overtime schedules for employee to comply tasks requirements with producing materials.
Overtime schedule management established to conducting planning and overtime schedules setup for manage employees over time, scheduling individual employee for conducting and enhancement extra time for producing materials or any other compliance of tasks requirements in the manufacturing and supporting processes. Overtime schedule management process is conducted by human resources department on request of production department, production manager is preparing overtime schedule and provides to human resources department for recording and intimation of concern employee are deployed for overtime, to acknowledgement the system is maintained accordingly. The schedule is prepared by production manger to overview production requirements, production load that manage according to customers orders and skills to producing and manage product during the manufacturing processes, production manger is select the employee for overtime and manage schedule to communicate with employee which is selected for overtime for intimate & discuss with production condition to stay and handle tasks in overtime.
Overtime schedule management established by management and its concern procedures, work instructions and activity are deployed in the system by management representative, hence production manager is responsible to maintain procedures, monitoring activity and controls over the processes are conducted in the various processes of manufacturing units, overtime schedule management are also conducted and monitoring responsibility of production manager and production manager is prepared and maintained overtime schedule to communicate with concern supervisors and employees for finalize overtime schedule to conduct extra works in the manufacturing processes, see picture below given as example format of the overtime schedule which is prepared and submitted to human resources department on after finalization with supervisors and concern employees, below picture given for education purpose: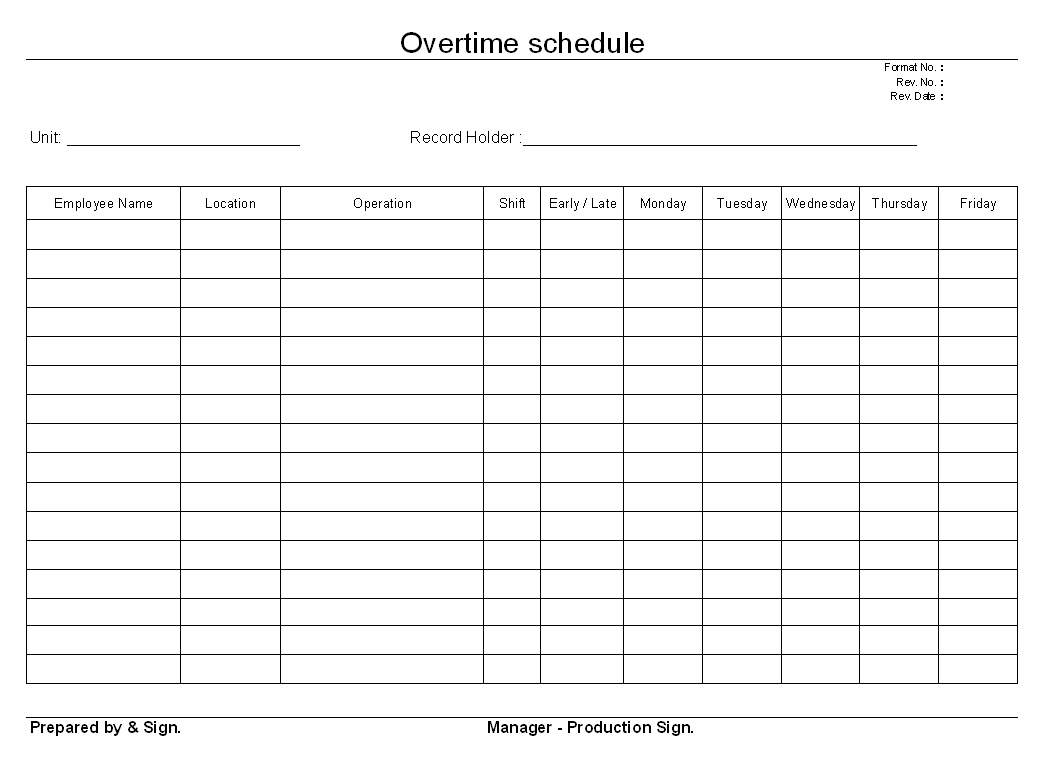 Overtime schedule format is used to planning production works concern required manpower management on extra time spending to conduct manufacturing activity, to preparation of the overtime schedule needs to communicate with concern supervisors and employee are selected for overtime which are choose on base of skill and internal manufacturing processes requirements to operating activity and processes that needs to manage for producing materials, hence production manager is prepared overtime schedule and submit to human resources department to conform the overtime schedule and planning the works for manufacturing / supporting activity, and on base of the records human resources department can manage payroll. The documents of overtime schedules are maintained as per standards and its storage and disposal are conducted accordingly.
—————————————————————————————
Download format in word document | Excel sheet | PDF format
—————————————————————————————