Safety compliance checklist is system document for verification of compliance with all applicable safety requirements within organization. The checklist may prepare according to standard methods and safety system's clauses to ensure all workplace area are safe for works.
Safety Compliance checklist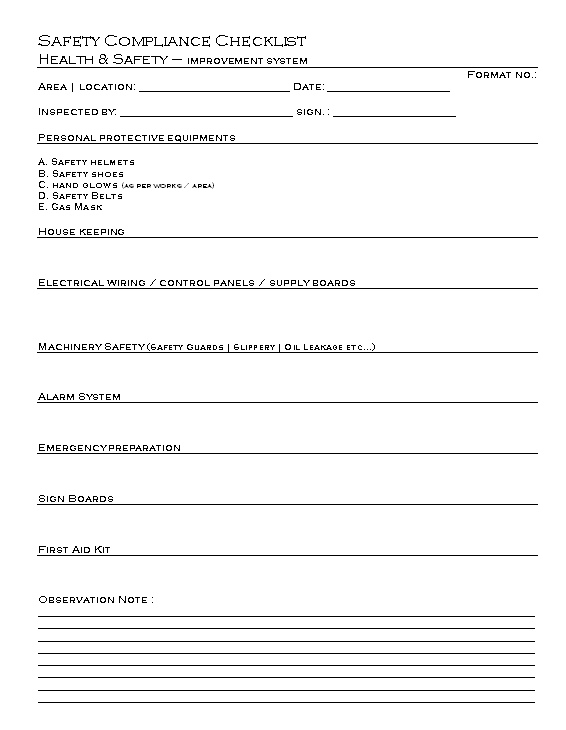 Overview to Safety Compliance Checklist
The process is a safety compliance performing to verify compliance of all applicable and specified area as per standard methods and applicable clauses of internal management system. The system establish to ensure safe design, manufacturing and implementation to provide safe work environment to all employees, and the safety compliance checklist / audit should be implement by systematic method to consider all specifications, standards and requirements and safety compliance. Standard checklists are develop on base of activities have been perform, process functions, maintenance system and deploy procedures. Following types of safety requirements should have covering in checklist are:
Electrical safety
Operational safety
Emergency stop system, machinery, equipment related safety
Cooling system, thermal system, gas fuel system etc..
Emergency preparedness
In working environment, all the employees are be a safe and healthy are primary requirements of the company and also requirements of the environment health and safety system.  According to environment health and safety system, need to provide facilities, safety equipment and hygienic environment for the workmen at working places and same of employee's responsibility to maintain safe environment in work place.
To use maintain safety in workplace
To maintain safety requirements at workplaces require monitoring and inspection frequently to ensure the safety system is maintaining. For the monitoring safety at workplaces, safety compliance checklist is needs to maintain. Safety compliance checklist is providing complete information of the current status of the safety status at work environment. Safety compliance checklist establishment, maintain, controlling and effective actions are conducts by management representative of environment health and safety system.
Basic Check points
Here as given below example format, which are basic properties are needs to check:
Personal protective equipment like safety helmets, safety shoes, hand glows, safety belt for working on height etc.
House keeping is one of the most important factor that directly effect safety of workplace.
Electrical wiring, control panels and supply boards to inspecting all are correct, is there any loose wire or broken type supply boards are at workplace… information are need to collect
Machinery safety requirements like safety guards on each rotate parts of machine, checking of slippery floor around machine areas, leakage from machine parts..
Alarm system for emergency situation
Emergency system, deploy equipment like safety equipment, fire extinguishers..
Sign boards are important to safety like work in progress
First aid kit
Safety compliance checklist is evidence of the safety audits, these documents and records help to reduce unsafe activities and unsafe equipment and machinery through analysis of document of safety compliance and audit notes.
EXAMPLES, SAMPLES & FORMATS: Download