SIPOC DIAGRAM: PROCESS MAPPING FORMAT
—————————————————————–x—————————————————————–
Below  SIPOC diagram or Process Mapping is supporting to understand the process / product realization and basic concept of the process mapping to understand requirements of the quality management system, that ultimate goal is customer satisfactions, trainee can easier to understand by sipoc diagram or process mapping to focus on the need of the preventive actions, corrections, corrective actions and impacts to comply the requirements to achieve 100% customer satisfaction goal.
Process:
Details of Process:
Process Owner: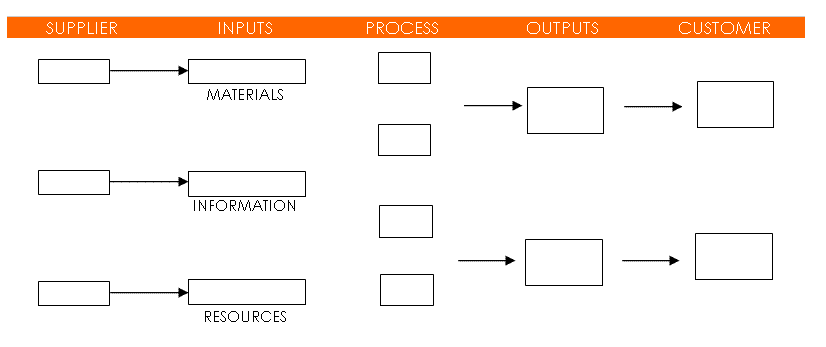 Process Objectives:
———————————————-
Aspects:
1) Productivity:
Objectives:
2) Quality:
Objectives:
3)   Cost:
Objectives:
4) Safety:
Objectives:
5) Moral:
Objectives:
— Review — 
— Questions on objective to focus by base requirements —
Are sufficient resources available ? What & How many ?
Are all process stages required ? & Are those value added ?
Is sufficient information available ? Which & How ?
Additions / Changes in process :
—————————————————————–x—————————————————————–
Related Topics: