Supplier certification process
Supplier certification process is established to verification of supplier internal system to ensure the product quality & management to certify supplier product.
Supplier certification process is establish, maintained and update as per standard system to certify supplier's internal management system audit, verification of internal activities and production lines to ensure that product purchasing from supplier is maintain quality and standard requirements of end applications, on success of the processes of verification are result supplier get certificate on completion of audit successfully. Supplier certification process is conducted for supplier's internal management system audit which is conducted by customer's representative to visiting supplier's premises, customer's management is appoint some qualified auditors to conducting internal audit at supplier's internal system to verify standards requirements of the product standards, technical requirement and as per end application requirements.
The purchase manager is authorized to purchasing materials from various suppliers that purchase manager is responsible for incoming materials quality, end application requirements are expected by management, hence the supplier internal audit and its process responsible is purchase manager but quality manager is also equally responsible for selection of qualified auditors to conducting audit at supplier's premises to identify non conformances as per standards clauses and requirements, aware and develop suppliers for improvement of its' internal management system for overall product standards and product quality improvement, on approvals of each activities, processes and documentation that audit team is certify supplier and provide certificate for internal management system certification which is approvals for purchasing materials and assurance of product quality.  The documentation are used for recording information of the each suppliers internal audits and records of internal management system certification of supplier are managed in the supplier certificate record, see picture below given as example format of supplier certification record for education purpose: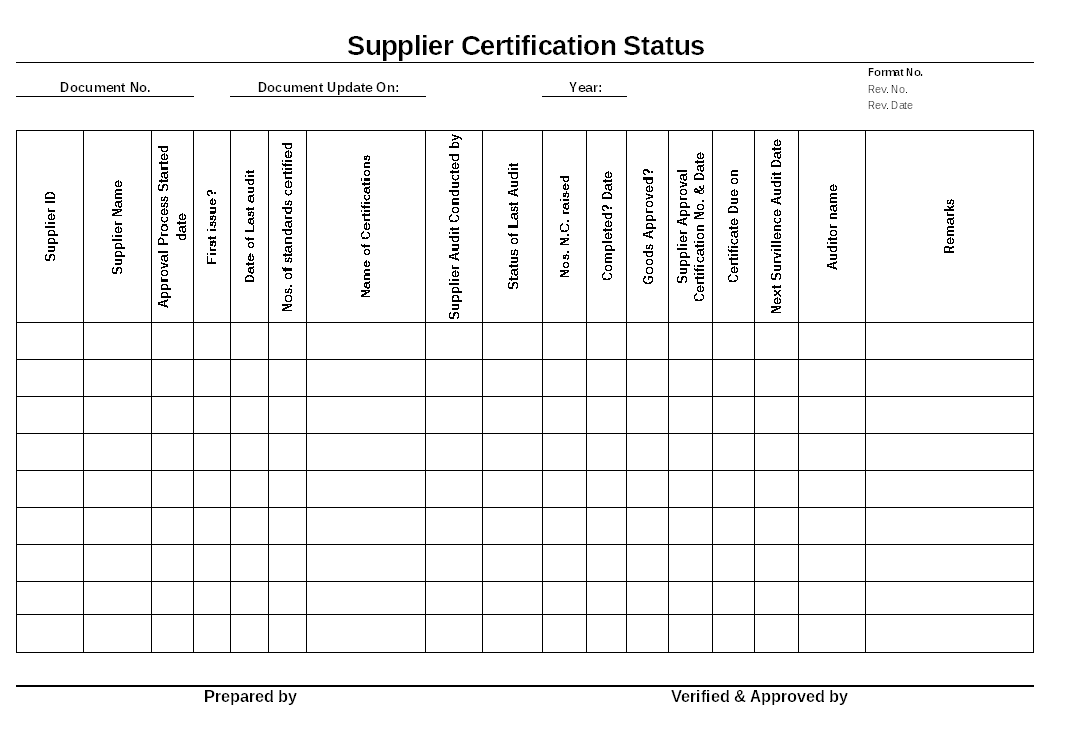 Supplier certification record is format used for recording information of supplier's internal management system approvals and its processes, documentation and current status of supplier's internal audit conduct by purchase department and quality departments' selected auditors where each activity and process are verified and reporting for conformance of standards requirements to meet product and standard requirements as well as end application requirements. In the supplier certification status format having all concern information are recorded, where first issues of certification in case issued in previously, last audit information, required certifications and its concern records are maintained. The records are used and update on update of audit process and activity conduct by qualified auditors.
————————————————————————–
Download format in word document | Excel Sheet | PDF format
————————————————————————–