Chemical hazard analysis worksheet
In industry without chemical are not possible to process, industrial produce processing requirements, heavy equipment manufacturing, machinery, engineering products are mostly used harmful chemical in its process that is required for the process, there are no any alternative in case, industry must follow the rule for the generation and disposal of the chemical hazards as per government rules and acts.
Chemical hazard can harm human body and environment; it should need to regulatory requirement that need with deep analysis for the chemical hazardous material to disposal. Some organization are creating effluent treatment plant that sewage are generate from it as result those sewage quantity need to disposal by legal ways, mostly industry are contract with the authorized person who are approved by government to disposal of hazardous waste.
Chemical hazardous analysis worksheet is the records of the testing / inspection and analysis of the chemical hazard are generated through chemical process or by product of chemicals. Chemical hazards is very dangerous for human body and environment, organization are establish lab for the analysis and used the special equipment to measure chemical hazardous material sample for the right disposal methods.
As per chemical hazardous material samples, organization are decide for the chemical hazardous material disposal, how the material are disposal, it should be possible for recycling? Or reused? If the there are no any possibility it should be send to authorized person for the disposal, if the material is are possible to recycle or reused that need to permit from government, off cause generation & disposal authority are also need as categories of chemical hazardous.
EXAMPLES, SAMPLES & FORMATS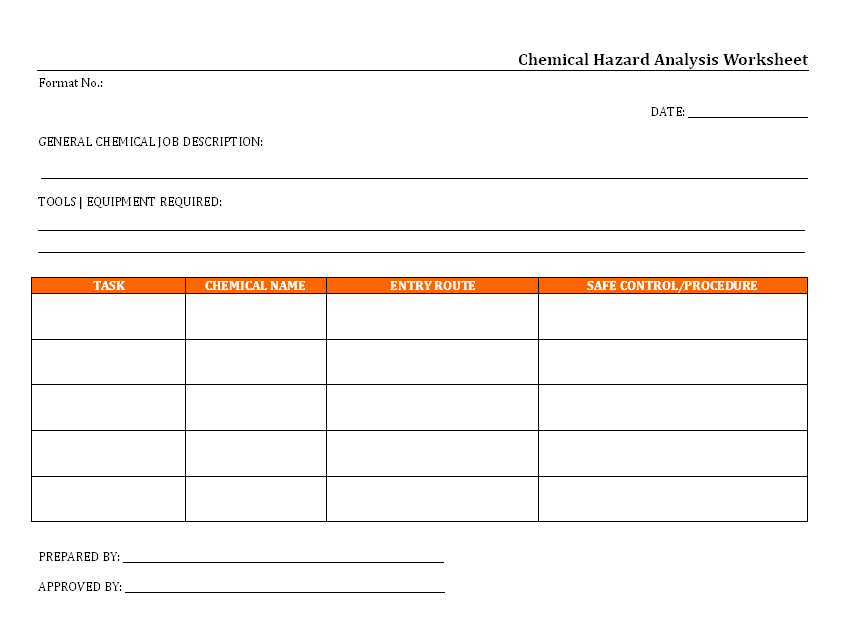 You would also like to read: