Complain Report – QA / QC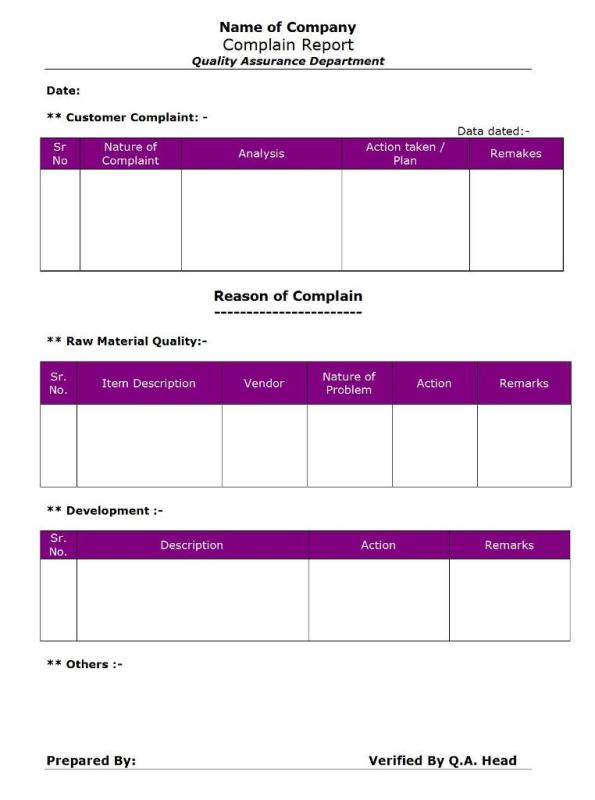 For quality System aim is best quality material delivery to customers with satisfaction and its responsibility to delivery the quality best material to customer is quality control / quality assurance department of the suppliers that need to care of the material which is delivery is ensure that is best of the dispatched to customers.
Prime responsible for complains of the material incase of the materials by default defected / production line defects or design defects, they need to corrective action should be taken on it if the material having any serious faults.
Quality Control / Quality Assurance department need to care of the customer complains are raised in case of the following reasons
–         Raw material Defects
–         Production defects
–         Design Defects
–         Other reasons that Q.A. / Q.C. is responsible for occurred
To avoid further complains that needs a reporting of each complains & its analysis, tracking of each possibility cause to understand root cause of complain. This Complain reports impact to other same case defect to avoid reach the material to customers with same defect prevented.
For the quality control and Quality Assurance Department facility, here Complain report format is available for download free
Download Complain report format in word format
Download Customer Complain Analysis Report in Word Format
Customer complain report for Quality Assurance / Quality Control Department
Q.C / Q.A. (Quality Control / Quality Assurance) Formats