Cost Change Request Form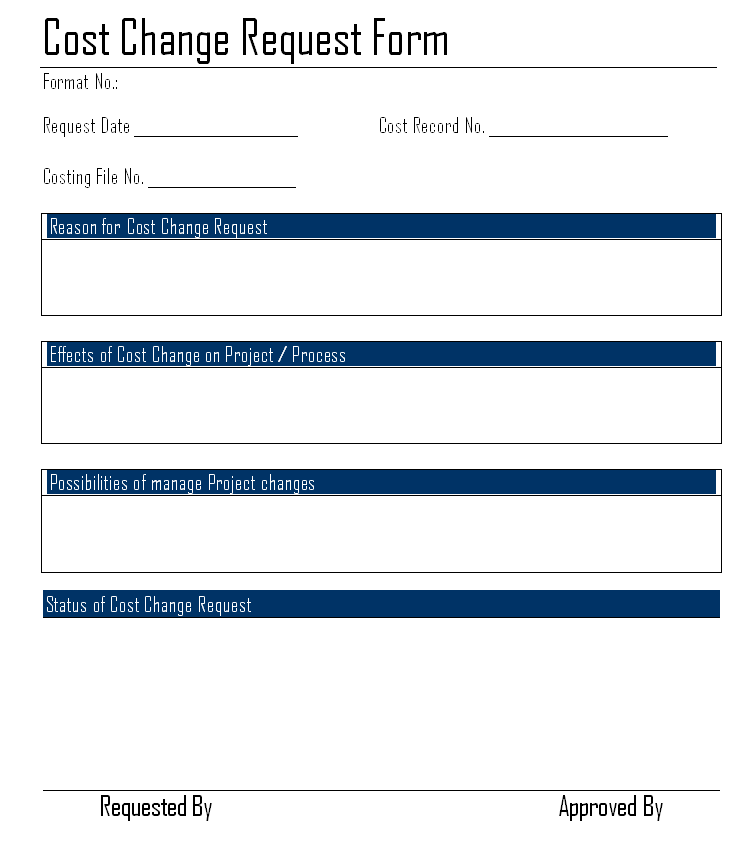 Cost change is cost control system, cost change is the requirements of the project due to prices of the materials are became high and the projects having requirements such product that need to cost change request to concern heads to increase the cost for particular projects and same ways possibilities to some reason cost change requested by the project leader due to some technical requirements raised.
Mostly management expecting the projects are complete in the project budget, but projects can be effect due to unchanged condition, so management inspecting all the sides of the requirements, conditions and accept changes are made by the project leaders. In the cost change request form following information is:
Request Date
Cost Record & Costing File number
Reason for cost change request
Effects of cost changes on project / process
Possibilities of manage project changes
Status of cost change request
When project leader or in charge submitting cost change request to management that management needs to ensure the all the requested changes are genuine & not be divert the projects costing, In case costing of the projects are not allocated that possible to  project can be reflect other projects of target are expected from project.
In the cost change request form, request date should be actual date of the request to management get & organize priorities on base of the dates, all the cost records & costing files are manage by cost control department, so its also required to discussion with accounting peoples to understand the possible incensement in project cost on current situation. There are also important issues can be possible that due to project  on clutch  can effect on the other operation hence management also prepare meeting with project leaders and other operational management to understand status of the project importance.
EXAMPLES, SAMPLES & FORMATS
You would also like to read: