Daily stockyard inspection
Daily stockyard inspection process is conducted to ensure that products are correctly stored to secure from damages, sketches and checking marking and labels are legible deployed.
Daily stockyard inspection and its procedures are conducted to ensure that all the materials/ products are correctly storage in the storage area, and also ensure that material is stacked in the racks / storage divisions with safe and secure with materials / product are secure from damages, sketches and labels are deployed correctly to easy for the read and identify the material category, material type and current stock on hand. All the stock should properly handled and update regulatory with each transition for the manage re-order level or managing maximum capacities of the storage. To inspecting the daily basis of stockyard to ensure the materials / products are maintained systematically, hence all concern documents are verify and inspected.
The quality team is conducted quality inspection in stockyard for the verification, audit to ensure the materials / product is storage are per product specifications and technical requirement to storage and handling instructions, as per standard requirements are match with the storage conditions, inspected material as storage all the requirements are proper handled that quality team record the information and update the daily stockyard inspection report, and record the information. It is very important to the regular basis all the details are inspect by quality department at the stockyard, all the product distribution, sale or move to customers or any other used are possible on after quality department's approvals, hence quality department's daily stockyard inspection is important part for the stockyard, see picture below for reference example format: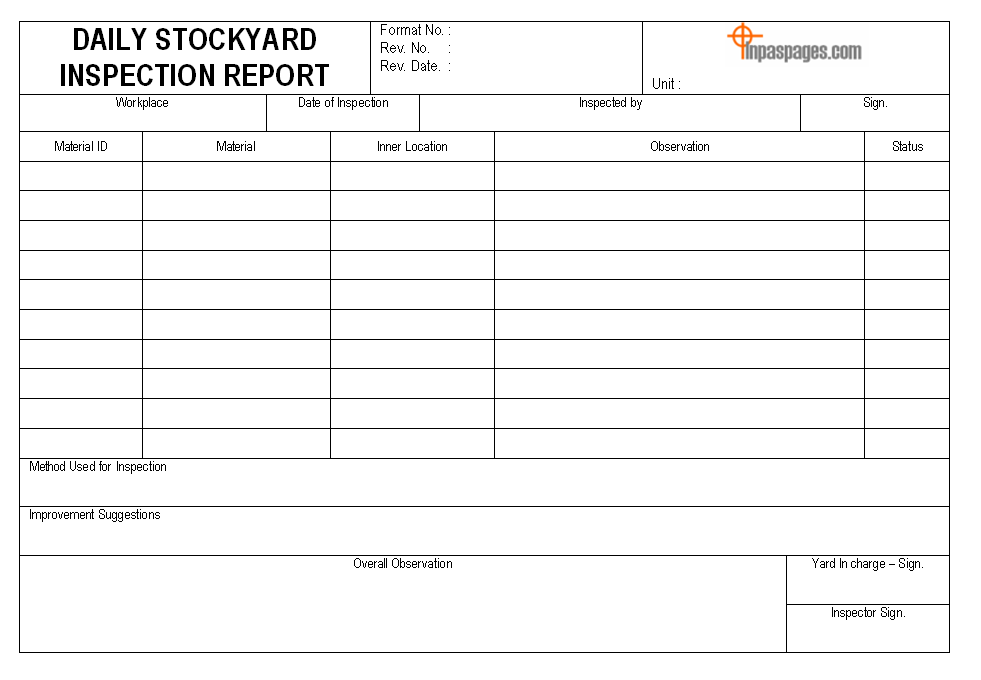 In daily stockyard inspection report, all the available storage divisions, areas and possible all the material / product are covered or randomly inspection are conducted, during the inspection observations, suggestions are recoded in daily stockyard inspection report, and against status of current situation are explained in report. The report is maintained for inspecting all products should stack on suitable storage for safe and secure as respective product sequence. The stockyard should be checked daily basis by quality inspectors to ensure products are correctly managed by storage department without and undue damage and proper labeled and same records are maintained in daily stockyard inspection report.
Daily stockyard inspection conducted on defined method and procedure to manage the system of the inspection of storage product in stockyard, each document are conducted for the inspection to verify record and transition with matching randomly any product physically to ensure records maintained properly. On base of the observations and conditions of the stockyards, inspection team is given its suggestions, results & recommendations for the improvement or correction.
—————————————————————
Download Format in Word Document | Excel Sheet | PDF format
—————————————————————