Daily time sheet
Department – name of the department employee belong too
Location / Area – Location where employee is working
Employee Name and Employee Number
Job category – Type of category of employee – supervisor, operator, helper or skilled worker, this category is helpful to understand the daily time sheet, or on base of the time sheet information, employee level can be possible to change or amend.
Special task if given – why the daily time sheet is need to establish, generally daily time sheet are maintain for some special task that understand the time frame of the task, if any special task given that information need to mentioned for real picture can get from this information.
Time sheet
–         Task – main part of the daily time sheet, time is established and counting purpose is that the task is completed in approx time to understand that which task is need to complete.
–         Job done – Task is subjective matters that for which task against the jobs are connect and completed during time frame, information of the job / works is very important in this case.
–         Start time and End time – To understand the job total time spend, whole job work will take the time to completion by level of employee, on base of the information analysis can possible which category's employee which task can complete in time frame.
–         Total Hours – Total Hours to complete the task.
Brief Note
Sign off of concern departments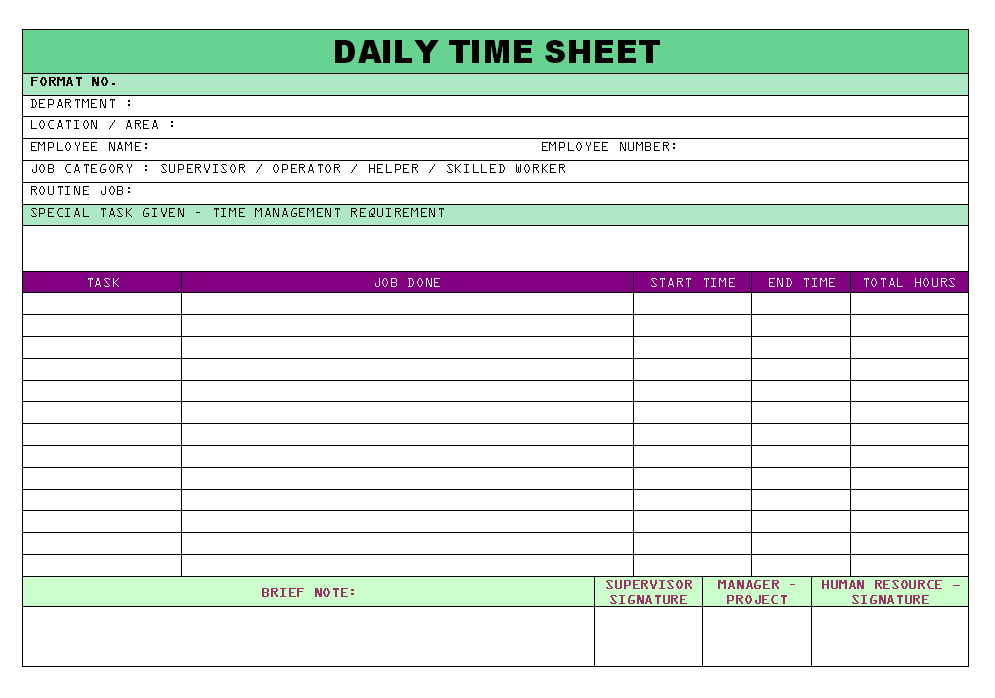 EXAMPLES, SAMPLES & FORMATS
You would also like to read:
BUDGET OF TRAINING PROGRAM / TIME (HOURS)