Defect Notification Report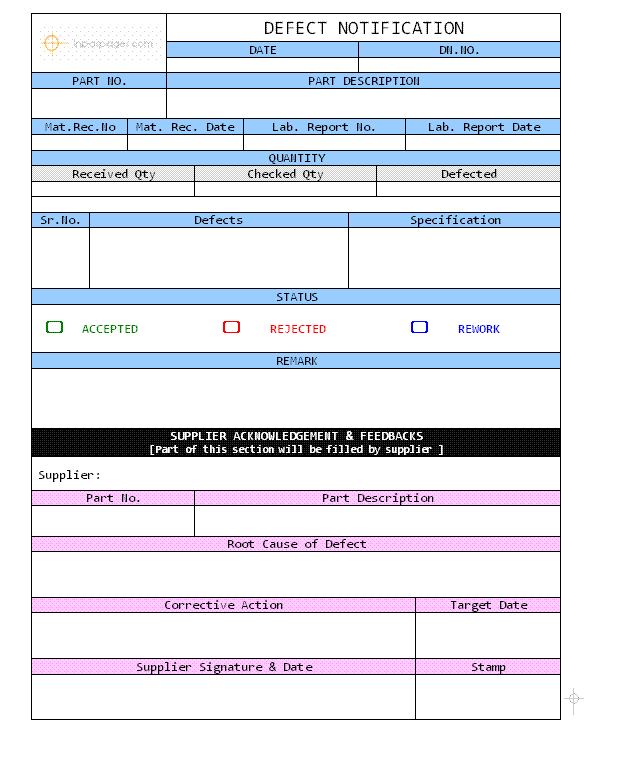 Defect Notification is Inspection process on particular part of supplier's material had rejected during the inspection that defect notification reports are given to supplier for the correction on product / process at supplier end. This report is very important to subject of the material are give assurance the material met the requirements of application, this report required as & when any defect found during inspection operation otherwise this report not prepared  by inspector.
Defect notification report is gives the information to supplier part / lot or samples are given for production had found defects & need to further action to correct the supplier's internal product / process modification or found the root cause of the defects, in the same report supplier fill up information as below side of the report as you can see above picture had given the information to concern in light pink color.
Defect notification format required information for fill up as below:
Date & DN no  – in the date column defect notification report date and DN no is defect notification no as sequence of previous number to respect.
Part no – material specific part no / lot no of identification no of the material had identify for supplier and short description of the material to inspector can verify on base of the information.
Material Receive No & date – received material no for used by inspection laboratory internal no for traceability of internal used and same will be used as date in concern.
Lab Report No – Laboratory internally used this number for all traceable identification that lab used for quality system.
Quantity details – as usual quantity information, receive quantity, checked quantity and defected quantity for information.
Defects & specification – when the material / part checked by inspector, inspector used as reference some manuals and information that specifically used as standards requirements for material & same for application, defects identify & measure to match with specification.
Status – the result of the inspection process is indicate the material is accepted or reject, rework for further process.
Supplier feedback is the whole process used for identification of defect occur during the inspection process by customer's inspector, this section used by supplier for CAPA process, here supplier find out defect's root cause, correction actions and corrective actions to ensure the further material will be met the requirements of standard application requirements.
All above are basic requirement of Defect Notification or format as well as Defect Notification report, here ready made Defect Notification report is available for download links as below:
Download Defect Notification report format in excel sheet
Defect Notification report in word document format
Defect Notification report / Defect Notification specifications
Defect Notification report template / Defect Notification examples / Defect Notification samples
Defect Notification report examples, Samples, template, description, definition.
Related Topics: