APQP stand for Advance Product Quality Planning
Quality… Product………Planning……
"Planning to deliver Quality product for new product development"
What is APQP?
Advance Product Quality Planning is a structured & systematic method of defining and establishing the steps necessary to assure that a product satisfies the customer's requirements.
Best understanding of this word, when any customer requirements for any new products or exiting product with some changes can reflect quality or not, change production process stages or any other major changes can be happen over production line that needs of the planning to provide good quality best material to customer & that should meet international's standards. The whole concept are to satisfy customer's requirements, obviously Customer needs a good quality material.
What is APQP goal?
To reduced Variation
Provide best delivery & services
Customer Satisfaction
APQP Process Flow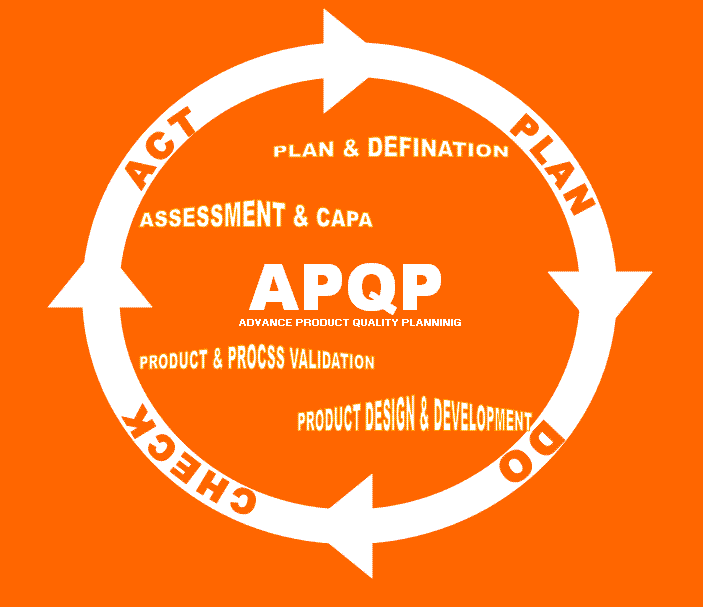 Plan [ Plan & Definition ]
On as primary section, making a planning to get the input from customer's requirements, understand applications & requirements of the product's process, concept that makes the aware to suppliers to comply needs of procedure of this program that help to development of the product with required quality & designs.
Inputs of this section:
Customer Requirements
Supplier's Previous Designs, Warranties, Data
Team ideas
Outputs of this section:
Product Assurance Plan
Process Flow Chart / BOM & designs – primary idea
Personnel Tasks
Do [ Product / Process Design & Development ]
In this section, outputs are becoming a input here that time to progress on the base of planning, Suppliers & design team are work together to development processes reviews & step in for achievement of goals, goals ensure that product meet customer requirements. Part of this section is preparation of the targets or on base of output of the planning section to develop DFMEA, Designing reviews & works on Controls that defined.
Whole Section is for designing, Structural database mapping & establishment, analytical programming, Designs verifications, Focus on possible errors, possible failures that in DFMEA by development team. BOM concern tooling, Equipments and testing materials & facilities should be deploy as per designed by Quality teams.
During the program from this section comes out Process flow chart, PFMEA, Product & process for review as point of Quality System view as output.
Analysis (Check) [Product & Process Validation]
Verification, inspections, Checking, trials & approvals are on section that important part of the program to full assurance, quality assurance, international standards assurance, studies & analysis are major activities are done in checking, Pass & approvals.
In this section, Planned, Designed, product taking on trial to verify its quality and ability as per customer needs, Some suppliers are also need to gives a PPAP to customer's engineering approval, its very major documents bunch are goes to customers along with sample product to final approval that called PPAP (Part Production Approval Process), In the PPAP needs to submit about 18 documents to ensure products quality, study records and analysis records to specific cases.
In the some industry needs to approval on packaging, controls plan, measurement system analysis to assurance of quality product, process capability study can also checks for approval of customer.
Act [ Assessment & CAPA ]
In the section, approved products goes to production line to real action, but the still APQP program still on last mode to ensure product final analysis to meet customer needs, further this final examination or analysis are also very useful for the current product that still not developed for this final stage : Reason: Some application did not prepare those kinds of analysis, engineering company whose manufacturing Dies for ceramic tiles manufacturer, in these cases customer never ask for any analysis, but same engineering company manufacturing some dies for automotive sectors, than they need to analysis called " Process Variation or Reduced variation" that help to supplier as well customer to avoid random sizes in product.
Implementation of the product that needs to feedback of the product to customers, comments, suggestions, complains are valuable to corrective actions and continual improvement (instead continuous improvement).
—————————————————————
—————————————————————