EHS implementation and operation control
The purpose of procedure establishment is to ensure that hazardous materials & activities are identified associated with workplaces and required operational controls are defined.
This procedure should be apply to all those operations, machinery, equipment, activities conducting in workplaces and various locations, procured materials and goods, third party services, contractors and other visitors to the workplace that are associated with unidentified and identified hazards, aspects including all the controls requirements where the implementation of controls is necessary to manage environment health and safety risks. The procedures for the EHS (environment health and safety system) implementation and its operation controls requirements are managed to ensure that the all hazardous materials, chemicals, activities and processes are identified which are associated with the various processes and locations, and requirement of operational controls over the identified hazards are controlled environment provides to all employee are needs to maintain and implement EHS implementation.
The inputs for the EHS implementation, legal agency, steering committee, head of department from all the areas, audit reports and standards system requirements are considered to manage hazard identifications and risk assessment, aspect / impact study, legal and other requirements, training need, audit, medical checkup etc.., are managed as inputs for processing. The management representative of environment health & safety system as well as head of department is responsible for conducting the inputs for processing and implementation of programs. The processing is managed to establish and maintain system for implementation of environment health and safety system to cover situation where their absence could lead to deviations from the standard policy and defined objectives. The outputs from the processing activities and inputs from various sources are managed and its outputs like controlled working situations, legal compliance reporting, daily safety sheet, housekeeping records, safety audit reports etc., are processed through defined methods procedures for environment health and safety implementation and operational controls. The management representative is established environment health and safety implementation program and deployed in the system, see example: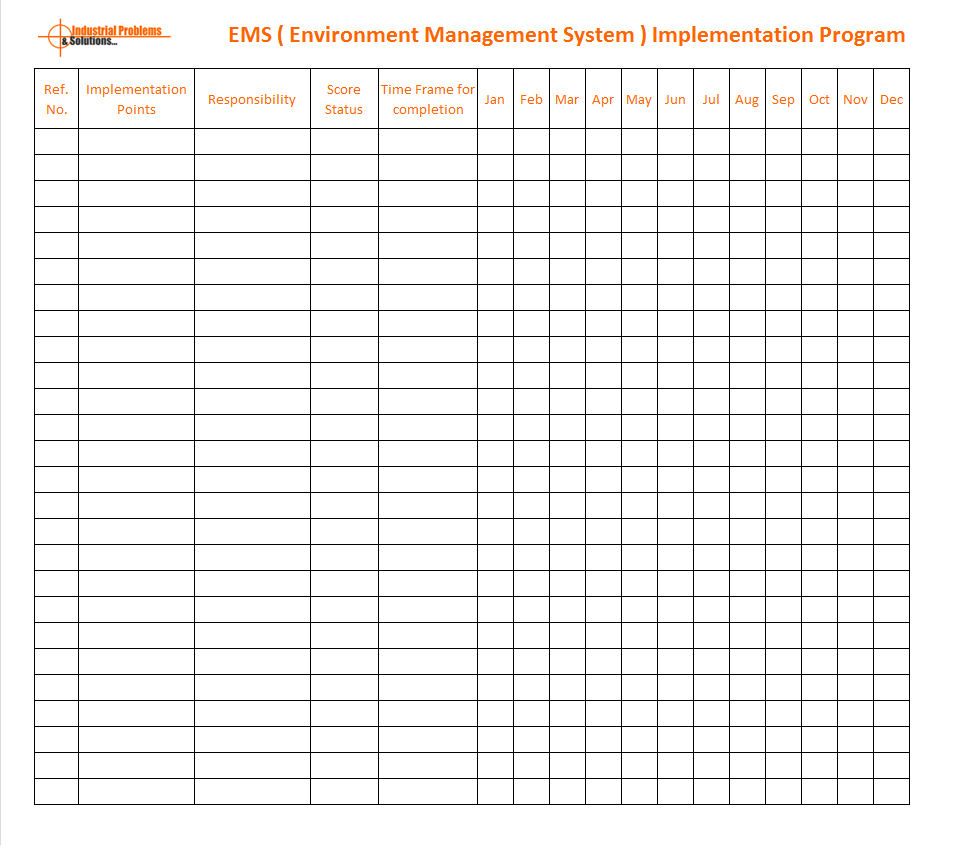 In the EHS (environment health and safety system) implementation program needs to proper training, the training needs from competence metrics, requirements of environment health and safety system, EHS benefits of improved personal performance, role and responsibilities for environment health and safety system policy and objectives etc., are general requirements are needs to provide training to considering available resources and personal protective equipment. The implementation of EHS control measures are defined and on failures of processes or activities needs to implement immediate CAPA processes.
—————————————————————————————-
Download format in word document | Excel Sheet | PDF format
—————————————————————————————-