Operational control is strategic planning for identification of hazardous materials, activities, objects and processes which are associated with processes in workplace. Operational control actually, defines control measures and level at various functions.
Introduction toe Operational Control
Actually, operational control is strategic planning for business management. Even it is also make a control over the objects, activities and process for the business organization. Normally, the operational control cover all the operations, machine, equipment and activities performing in workplace. The operational control is also actively applicable at on processes such as third party services, contractors and visitor related processes.
In short, you can say it applicable to identified and unidentified hazards, aspects and including all the control requirements associate with workplace.
Role of operational control in Safety System
Normally, businesses are deploy the environment health and safety system to effectively manage the standards. Even the operational control may help to enable the system for effectively manage this system in workplace. Further, this operational control may help to ensure that the hazardous materials, chemicals, activities and even processes are identify and highlighting on category of hazardous materials. As you know these hazardous materials can be from any workplace or from process.
Hence, operational controls is one of the best options to effectively manage these hazardous materials. Even it helps to reduce these impacts on processes are much important. Actually operational control is objective-based system, it may help to provide a safe environment to all employee with effective controls on operations.
Operation control over inputs and outputs of EHS implementation
The inputs for the EHS implementation from legal agency, steering committee, head of department, And audit reports are consider. This inputs are use for hazard identification, risk assessment, aspect / impact study, legal and other requirements. As well as training requirements, audit, medical checkup etc., are general processes consider as inputs.
Control Over inputs
Head of department is responsible for process those inputs and implement programs. Operational control is help herein identify and cover situation where deviations are identify. The absence of activities, objects or processes which are necessary to achieve the objectives. Operational control quick identify and define the level of control as appropriate requirements.
Control over outputs
The outputs from the processing activities and inputs from various sources are manage. Is outputs like control working situations, legal compliance reporting, daily safety sheet, housekeeping records, safety audit reports etc. Are process through define methods procedures for environment health and safety implementation and operational controls. The management representative is establish environment health and safety implementation program and deploy in the system. See example: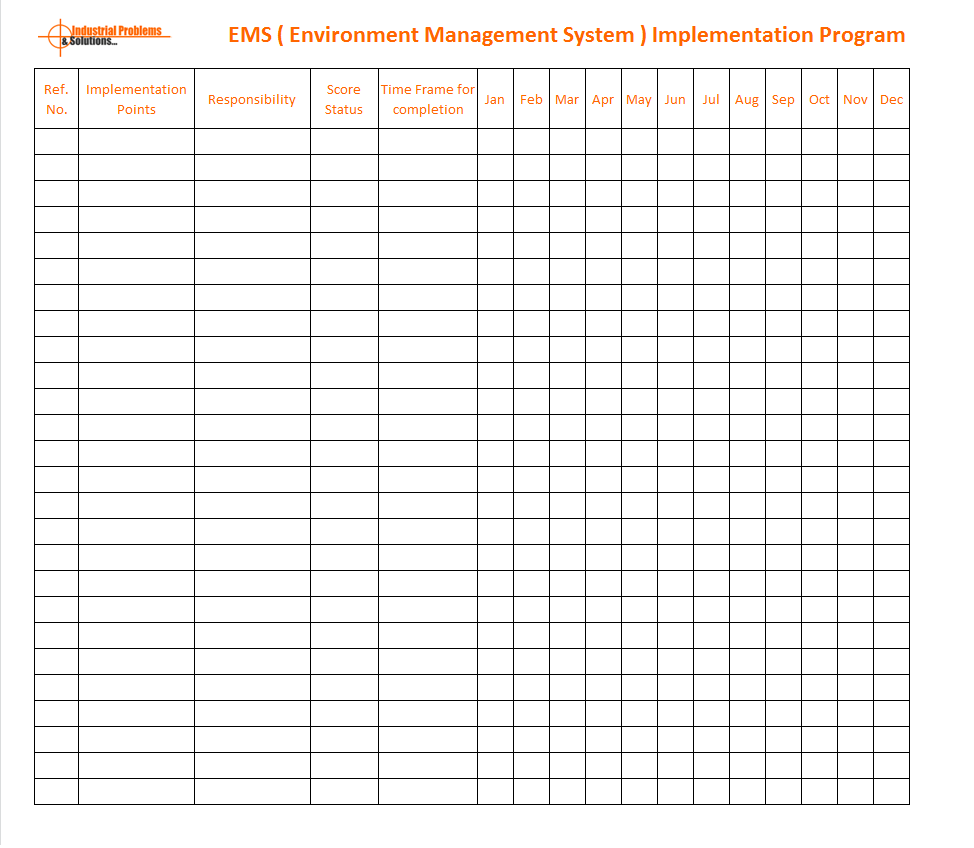 Documentation
In the EHS (environment health and safety system) implementation program needs to proper training, the training needs from competence metrics, requirements of environment health and safety system. EHS benefits of improved personal performance, role and responsibilities for environment health and safety system policy and objectives etc. Are general requirements are needs to provide training to considering available resources. Personal protective equipment. The implementation of EHS control measures are define and on failures of processes or activities needs to implement immediate CAPA processes.
—————————————————————————————-
Download format in word document | Excel Sheet | PDF format
—————————————————————————————-