Emergency inspection checklist
Each company are preparing plan, drills and covered each are their possibility of emergency situation by some extreme conditions / working activities behaviors & used material that high risk can be create any time, but company expecting that emergency situation are never comes in the organization.
Emergency situation is comes some time in organization that peoples should be ready for the fight against situation of emergency to prepared people to aware the possibility  and prepared for it. Emergency planning should be strong as possible to minimize risk level that can concern with humans, environment or financially, for the emergency inspection checklist covered following area & plans that part of the emergency planning:
Emergency plan
Evacuation plan
Alarm system
Emergency door
Housekeeping
safety equipment / PPEs ( Personal Protective equipments )
Gangways
Assembly points & Surrounding area
For the inspection of emergency preparation, company nominate competent inspector for the inspect those areas / materials / situation / location and flow that possible to cause emergency, each inspector had assign responsibility of area / equipment / material / location etc.. That needs to inspect with respective requirements to identify hazards / aspect and its controlling.
Emergency is critical situation that each company there is no matter is small scale or multi national should be aware of the each situation of emergency can be raised and harm the human & environment. For the fulfill requirement of emergency inspection here ready made format is available for download: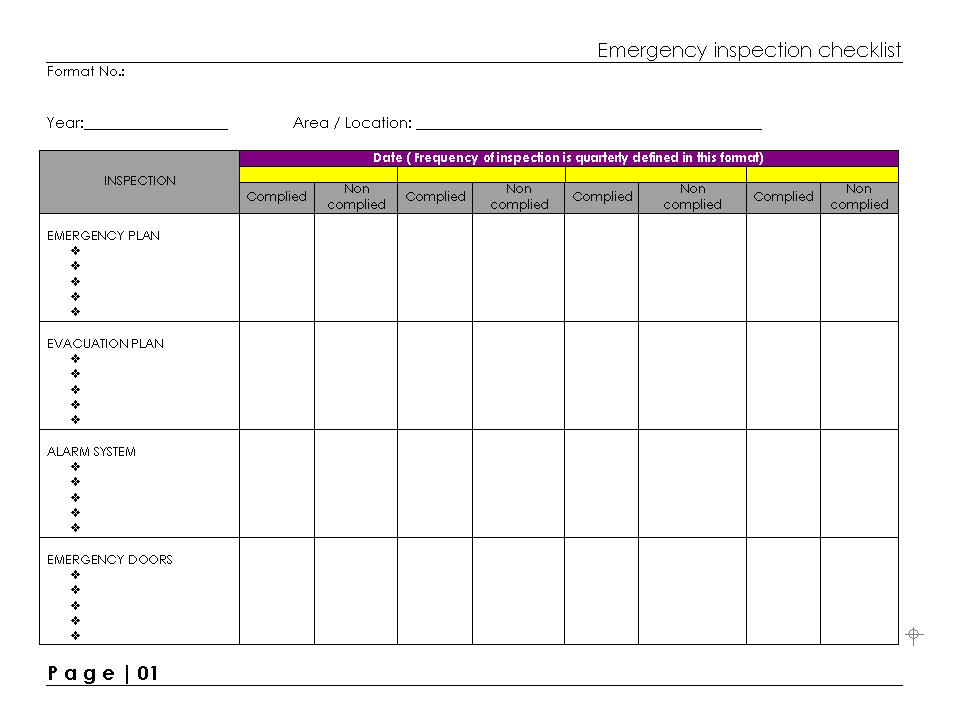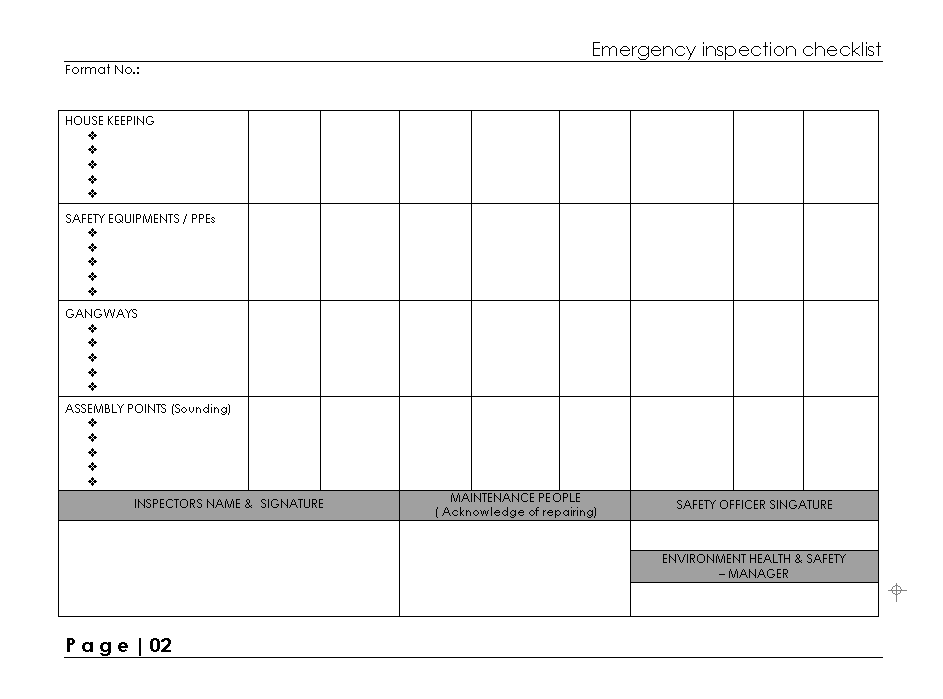 EXAMPLES, SAMPLES & FORMATS
You would also like to read:
| EMERGENCY EXIT DOORS CHECKLIST POINTS | EMERGENCY EVACUATION PLAN CHECKLIST | EMERGENCY PREPAREDNESS CHECKLIST POINTS | AMBULANCE INSPECTION CHECKLIST | SAFETY INSPECTION CHECKLIST POINTS FOR FIRST AID BOX | SAFETY INSPECTION CHECKLIST POINTS FOR LADDER | DAILY FORK LIFT INSPECTION CHECKLIST POINTS | FIRE EXTINGUISHER MONITORING RECORDS | TABLE TOP EXERCISE REPORT | MOCK DRILL REPORT |