Enhancement proposal & feasibility analysis
Enhancement proposal raised to needs of processes for existing improvement and feasibility analysis conducted to verify possibility of actions effectiveness in various tasks.
Enhancement proposal are raised on needs of improvement in existing system when issues are identified by concern management, auditors or any third party during audits, performing tasks or any other way are considered for improvement of system, and the tasks of the improvement are managed as issues raised in processes and sequences of the activity are needs to identification of problems. The problem identification are managed through identification and analysis processes to ensure that the problem is technical, raw materials, human error, environmental etc.., are identified, there is also possible that there is no problem is identified but the scope of improvement are feasible by concern authority that also considered to improve process performance. The problems can conducted in the management reviews meeting, process performance should reviewed and required actions plan are preparation are managed in it, the problem identification and solving managed as special tasks for improvement. The concern issues are solved by management team as well as internal department supervisors and other personnel can also contribute to addressing solutions as past experiences, the management team or concern manager are reporting and analysis the requirements to managing issues and its solutions that needs to raised effective proposal for manage issues or improvement of system.
On receiving of enhancement proposal from concern manager, the management team is reviews proposal & conducted analysis of possibility of apply in the system, the possibility are managed to verify resources availability, manpower management, financial condition, environmental issues, government laws that statutory and regulatory requirements, internal departments issues, proper monitoring and controls system, health and safety of peoples working in workplaces are considered and verify the proposal impacts at various processes on stages wise implementation. The feasibility analysis is important part of any improvement project that so many factors are needs to verify, tests and discussed with concern peoples before implementation, hence the feasibility analysis is important to manage requirements on results of feasibility analysis. Feasibility analysis is conducted by many ways, generally cross functional team is best ways to conducted analysis tasks for identified issues or improvement points are discussed in cross functional team, and team members are handle requirements for enhancement system or project and suggesting its own expertise and views to considering factors and challenges and possibility of achievement are discussed & implement core points.
Enhancement proposal & feasibility analysis of improvement points are considering to reviews of possibilities of implementation in workplaces, the projects of improvement i.e. describe in enhancement proposal is managed on approvals of concern authorities, this process is handled i.e. enhancement proposal is raised by any manager, supervisor or concern authority to describe information in proposal, stages of improvement, feasibility of implementation, team feasibility that is analysis and quality management, production management & admin panel should be suggested and comments are merged in proposal to easier for reviews & conducting and reviews each segment of organization that affected of implementation of project. The documents are prepared by proposed authority and submitted to management for further analysis and reviews, see picture below is describe formatting system that help to determine documents structure preparation and implementation in organization in real cases, the format of enhancement proposal provided for education purpose only: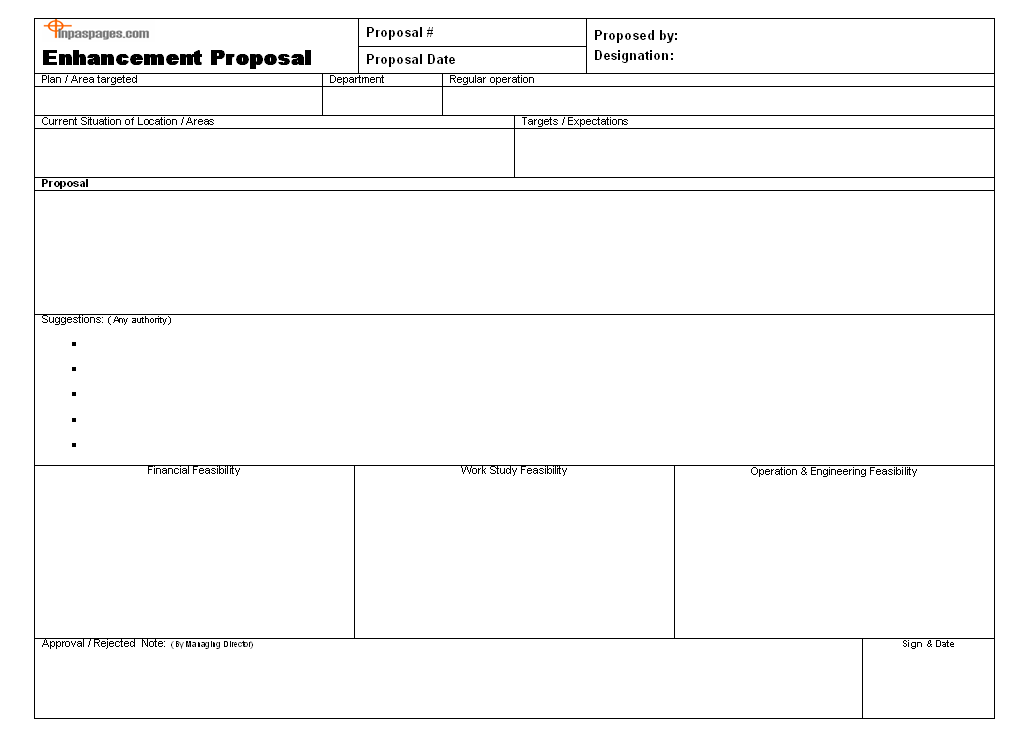 Enhancement proposal is format for managing improvement points on based on current situation of areas, locations or particular process, targets or goal that needs to point out to achieve the improvement level are expecting from project prepared and proposal for the targeting issues or enhancement in condition to overall implement of quality of works, product and processes to provides the quality of product, sustainable procedures and costs of product to customers.
———————————————————————————
Download format in word document | Excel Sheet | PDF format
———————————————————————————