Fire drill and evacuation management
Fire drill & evacuation management established to ensure that the fire equipment, fire safety system and fire safety related provided training are sufficient for workplace safety against fire incident occurred.
Fire drill and evacuation both are processes which is interconnected and perform during drill of fire concern, the fire drill is necessary processes to ensure the fire safety in the workplaces where high flammable materials and things are installed, storage or used in regular processes that needs to ensure fire possibility through fire safety checking and performing training and drills to ensure the safety. The fire drill is conducted on after the completion of fire safety training to all concern peoples to ensure the training effectiveness and improvement of safety against fire incident, hence the evacuation is one of the important part of the fire drill where trained peoples should needs to perform by activity participate in the fire drill and evacuation training and effectiveness verification. To avoiding fire incident management should be provide training for use of fire extinguishers, evacuations and what to do and what don't do training should be provides to all peoples around the workplace where high flammable materials are used or storage. Hence the evacuation is major part of fire drill because without fire fighters all the peoples working in side and around are needs to immediate evacuate the workplace that the main part of evacuation are trained and its effectiveness are verified by fire drill process.
The drill process is managed by safety officer according to environment health & safety management system and its management representative is responsible for identify safety drill requirement, the management representative and safety officers are jointly conduct the fire safety, identify locations, training and arrangement of drill. Hence the documentation for the fire drills, evacuation during the fire drill and training are managed as per evacuation plan deployed and displayed at appropriate locations. The safety officer and management representative are prepared fire drill evacuation checklist and its concern documents, in the checklist all the required information are mentioned to verify the checklist points against the performance of peoples trained for safely evacuate the workplace during fire drill, see example format of fire drill evacuation checklist: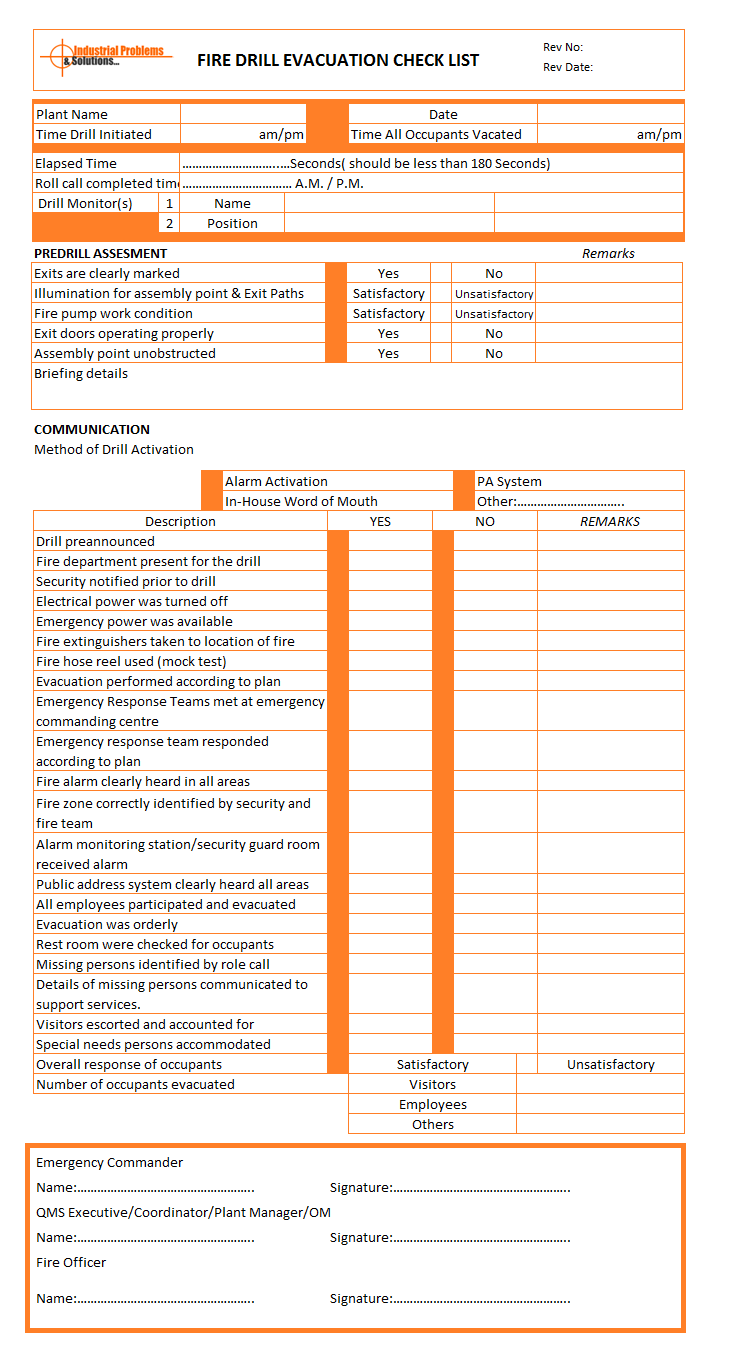 Fire drill evacuation checklist is format, this document is used to recording and verification of the performance of peoples participated in fire drill processes and training parts. The format is reviews to all the points individually and group to ensure that the drill is performed as per planned, and all the peoples are participate well as expected and trained, hence the each participant should reviewed as per evacuation requirements, training provided for fire incident. This document is playing important role in the reviews of system deployed for safety against the fire incident in workplace hence all the requirements, stages, safety equipment, training points etc.., are conducted for reviews and filled in the checklist for improvement and identification of further training.
—————————————————————————
Download format in word document | Excel Sheet | PDF format
—————————————————————————