Production loss analysis
Production loss analysis is identify of sources, calculates losses and analyzing their root cause of losses. The analysis process accounting and categorize the losses, for effective actions to eliminate causes of losses.
What is production loss?
Production loss is describes less quantity of produced materials as unexpected against to used machinery capacity, manpower and resources in time frame.
The production loss is direct loss for the management. It is indicates failure of management controls over production activities. The product loss are identify through analysis of collection of data from various department. The department is collecting data by daily basis from regular activities of production. These data are used for analysis of losses, and identification root of losses.
How to identify the production losses and calculate it?
Production loss can identify by calculate of the capacity, facilities and resources utilized in production for the quantity produced. The management team calculate product requirements against required resources. And define the targets for expected time frame.
How Production losses are raise?
A. Failure of planning :
Machine, materials or manpower's misconfiguration cause losses.The planning team is responsible for plan all the resources and material for production lines. Some visible production losses are results of production planning failure, and considered in direct production losses like:
No materials;
Machine not available / busy;
No operators;
Manpower not available;
The above points are records "production register" in production department. When any mentioned issues are raise.
B. Machine breakdowns
Machine breakdown is one of the major issues for disturbing production. When the unexpected stoppages can reduce productivity of manufacturing. Each machine breakdown is directly impacting on production time, quality and quantity.
C. Insufficient resources
When the organization failure to provide sufficient manpower or resources can losses. In some cases, unplanned human resources and equipment can create shortage at location where real requirement of resources. And its results is production loss.
D. Ignorance of procedures
Standard procedure is provides structural guidance to everyone in organization. But in some cases due to overconfidence, or intentionally ignorance of follow standard operating system. Production losses are occur.
E. Unskilled operators
Some time management are assign task to unskilled employee due to some reasons. Most the causes are occur due to financial saving or immediate requirements of manpower. But that can one reason for production loss.
F. Miscommunication
Miscommunication is one of the major issue for any organization. Management are always try to make better communication at all segment. But due to human involvement some lake of proper communication creating loss.
How to eliminate / minimize production losses?
The simple way is to eliminate / minimize production losses are to effective management at all the stages. The production losses can eliminate / minimize by following ways:
Reviews of each resources availability and manage and allocate at appropriate requirements. So easier for maintain requirements and resources as per production requirements.
Before the issues the materials to production lines, planning team should communicate, reviews the document and verify.  Understand the situation of production lines, availability of manpower, requirements of bill of materials and resources for production lines. In case of anything find short that immediate preparation can possible to manage.
To identification of each production losses and its causes of sources. You can use for identify of root cause through why-why analysis. Effective analysis can help to identify and eliminate possibility of production losses.
All the identified causes of production losses should be discussed in general and management meeting. Effective action plan should be deployed and implemented in line with requirements.
See the example format of analysis: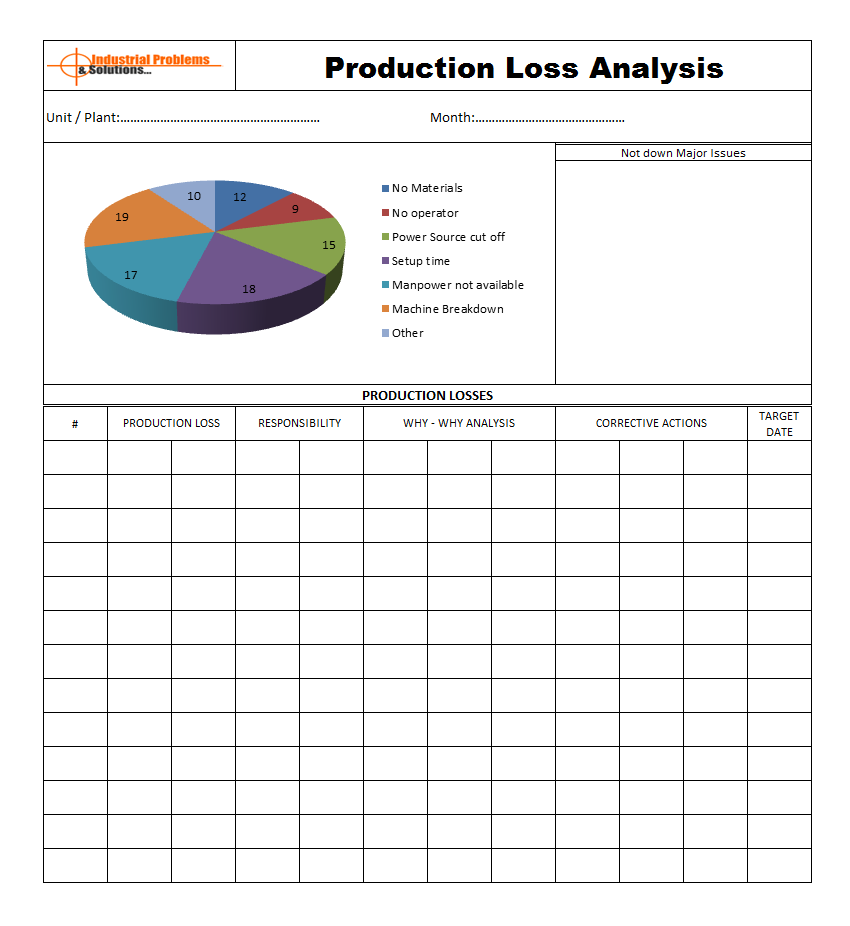 Documentation:
Production loss analysis format is used for analysis processes. In the document all the production losses are manage for analysis and corrective actions. This format help for defining a targets, frequency of review, and implementation. The review team are prepare suggestion and record information in specific format. Generally documents are controlled by documentation system.
—————————————————————————————
Download format in word document | excel Sheet | PDF format
—————————————————————————————