Effective product Analysis in food industry needs micro level analysis to meet specifications
The food product analysis process / procedure, here we are describing is only for education purpose of industrial food producer and focus on small scale business of food manufacturers. The article describes how to implement proper procedure for industry, engage with food manufacturing.
What is the purpose of food product analysis?
The food product analysis system is used to monitor micro level analysis of raw materials and product to ensure the product specification meets standards requirements.
The food product analysis system is conducted in food manufacturing industry to ensure the manufacturing products are safe for human heath, so its important that the raw material used in food product should be safe for human heath that needs to conduct special tasks of testing, verification and micro level that microbiological analysis helps to identify the food raw material safety. The goal of microbiological analysis of raw material as well final product is to ensure the product meet the specification defined as higher values of safe for human health. The philosophy behind the operating of this analysis process is products and raw materials should undergo regular microbiological analysis to verify their suitability for human consumption.
The maintaining quality of food product as well as verification and testing of each material used and direct impacting on quality of food product is under the responsibility of quality team, the quality assurance manager is responsible for ensuring the food product analysis, testing and results to implement product quality. For the food product's self life or product analysis testing is carried out by laboratory which under the quality team, but it's independently accreditation process should carry out as required for quality improvement and confirmation of material has been used. The quality assurance / quality control manager is responsible for the addressing the all existing and new products development proper procedure, the responsibility to provide a system for managing with the entire food product under the unit and scope of quality team.
Sampling
The sampling is important part of the quality inspection, testing and food product analysis procedures. The prior to the introduced products, the concept should be properly discussed with team for sample planning, each trails are should conducted on raw materials, in-process as well as finalized product are highly recommended. The quality team should conduct the sample, test it and submit to quality manager for approvals as state procedure to ensure the specification of the agreed product is given to the quality control manager in order to complete the product testing cycle. When the food manufacturing team is develop any new product should be needs much care, the new product recipe and its records should submit to quality control manager and the first – off production are take as sample from the new products for self life verification purpose, and this sample should also needs to send to laboratory for food product analysis by microbiological analysis purpose and approvals of laboratory manager.
The food product analysis conducted on based of measurements of testing on the samples conducted for analysis, the analysis method can be statistical as reliability of the values to identify product quality obtains collected information in laboratory with various measurements. The documentation is established and recorded information are maintained in quality department, see picture below example of records maintained of food product analysis template for education purpose: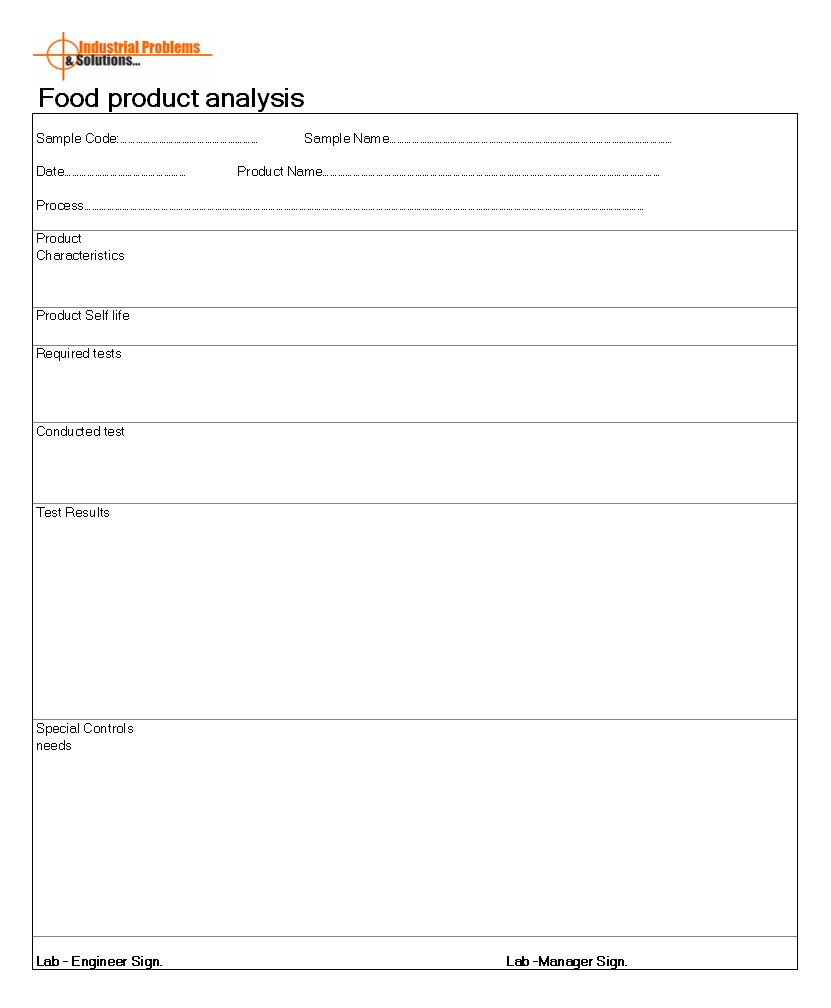 ————————————————————–
Download format in word document | Excel Sheet | PDF format
————————————————————–