Health Checkup Register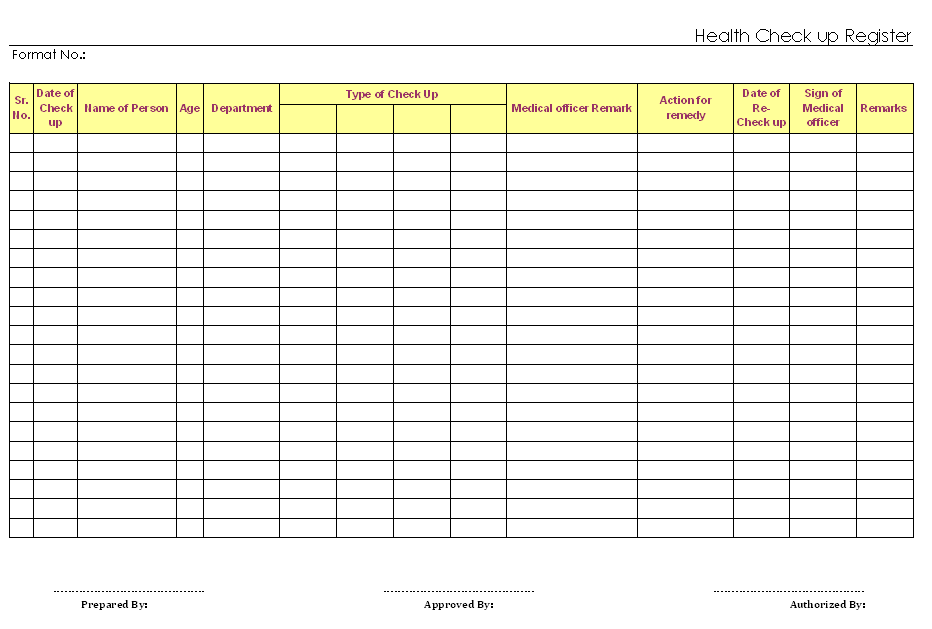 As government rules, Acts of organization workmen populations, nos of workmen in the organization works within premises, need to open the clinic for the primary treatment in case of any minor / major accident happen, company need to appointee qualified doctor to visit the clinic timely, As factory rules some necessary checkups of the workmen, employee are required as per organization's product and internal atmosphere, off course doctor will suggest the required test but some test are necessary for any organization.
As same of factory rules by governments designed, international standards are also follow the requirements of government rules & regulations are strictly follows by organization, those standards are ISO 14001 / OHSAS 18001 & some ISO series but here we concentrate on above both standards that focus on Environment health & Safety within company premises.
Environment Health & Safety system followers are need to maintain register of each workman; some necessary checkup details should be mentioned for the health of workmen. Suggestions of doctors are also welcome for testing that required to see the visit of doctor in workshop.
Health Check up register's basic fields as below:
Date of Check up
Name of Person / Patient
Age
Department
Type of Check up : Here in the format having four black column, as required test are mentioned in line with checkup
Medical officer remarks
Action for remedy
Date of re-checkup
Officer Signature
Medical officer is maintain this records in the organization register, auditors are check those registers for verify the timely check up, required medicine, required tests done or not, in case of leak found that should be non conformity of the terms.
—————————  Download —————————
—————————  Download —————————
Related Topics: