Injury free hours form
Industrial requirements for the workmen, employee health and safety concern, organization should be take necessary action to avoid major incident / accident, that Is primary requirements of the industrial rules and act that statute requirement by government policies. As per factory acts and rules each factory should be follow the rule for the incident / accident, mostly reportable accident must report to factory inspection which is note the accident happen in organization.
This is strong requirements of the factory acts as well as international standards are also clauses that indicate the each rule and regulations should be covered 100%, the auditing team are records are check like legal register, legal evaluation and other concern document which indicating the compliance of the legal requirement which is directly concern with employee health and safety.
For the safety point of view, organization takes some primary awareness programs, safety equipment distribution and awareness program for the importance of the personal protective equipment to employees are wear the safety equipment. When the employees are wearing the safety equipment that incident / accident percentage are dramatically change as you can see in your organization as strong example of the PPE used.
When the employees are free from injuries is biggest achievement of the management, each management though to minimize injury to increase personal & company productivities as well as avoid financial losses. These injury free times are records in single form are injury free form. On base of this format can understand how much time is taken by the injury as individually and group wise.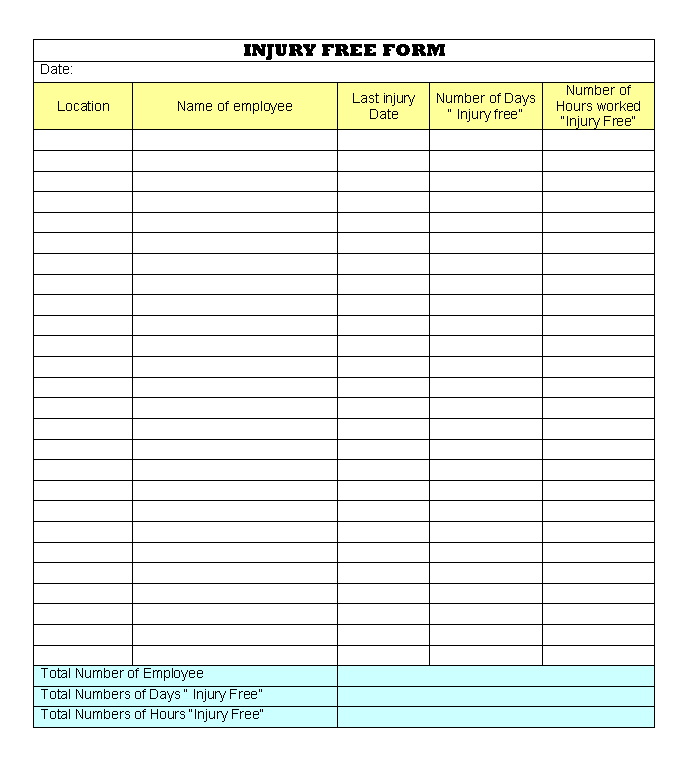 EXAMPLES, SAMPLES & FORMATS
You would also like to read: