A Interview assessment process is systematic procedure to verify the individual candidate's interview, evaluation and to assessing job requirements for each one.
Introduction to Interview assessment
Interview assessment process is conducts for verification and evaluation of candidate's information collect during interviews. This process is manage to verify interview records for evaluation of each candidate for assessing job requirements.
The job requirements raise in internal department and as post vacant for particular tasks that the team is verify the records and implement evaluation processes. The documentation reviews are manage during the processes as information record during interviews for each candidate. The interview process is manage by human resources department.
How to conduct process?
Actually, interview conduct as per department requirements, the authorize personnel are conducting interviews and manage the records of each candidate. The detail information collect are provide to human resources department for further actions. The human resources submitting records to concern authority for further actions.
The concern department peoples are verify the records of each candidate for evaluate, identify requirements as per interviews records, for the reviews and evaluation. The management is establish board for reviews and evaluation, select board members are verify the records and persons are appoint or reject to compare individual records with job requirements.
Assignments & Tasks management
The general process for appointment are manage on after completion of reviews and evaluation of each candidate. The management is responsible for assignment of persons to conduct tasks as board member for selection of right persons for particular tasks that needs employee to handle. Hence board members are responsible for assessing records and identify right candidate for particular job post as job requirements.
There is also consider and verify personal profiles and behavior. Human resources is middle for all the processes that, receiving job vacancies for appropriate department. Identify requirements of this particular post, arrangement of interviews and maintaining records, and also submitting to management and board members for reviews and assessment of interview.
The human resources department is prime responsible for managing all the concern tasks of interview management & appointment concern processes. The documentation for the each activities manage. Interview assessment records are also manage by human resources as well as storage and disposal process handling.
Interview Assessment Sheet format
The records for the interview assessment is manage as interview assessment sheet. see picture below given as example format for education purpose: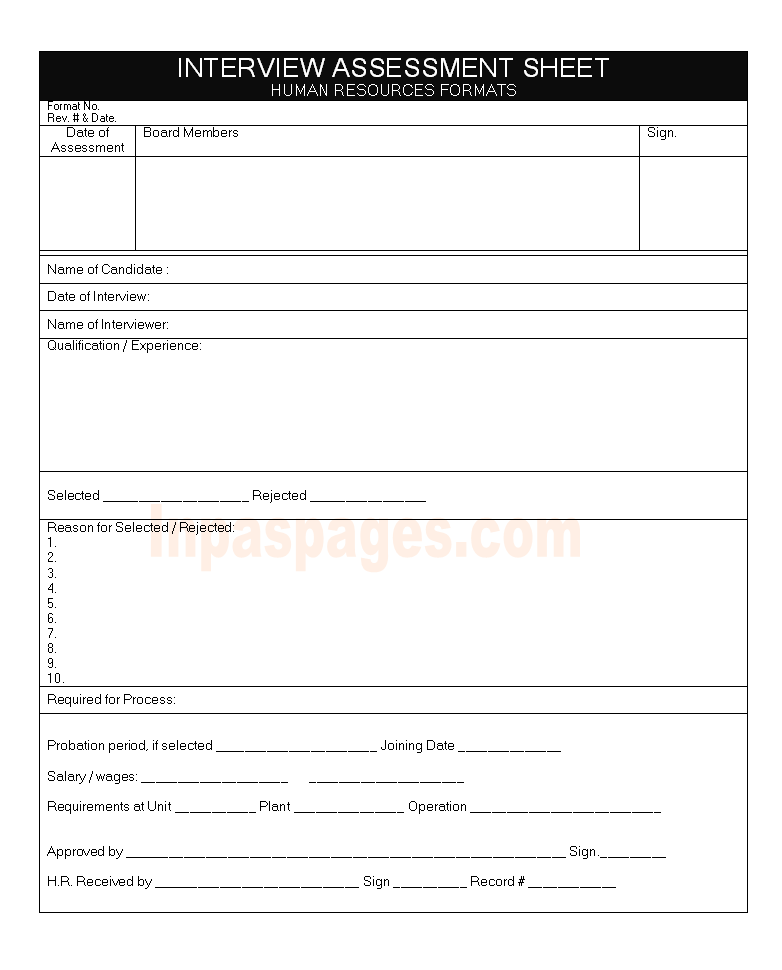 Interview assessment sheet format is use to recording information. The format is establish by HR department to evaluation of each candidate attend interview for job requirements at various places. The human resources department is arranging the document and provides to board members. The board member conducting assessment as require to selection of any suitable candidate.
The board member team is fill this format where all the require details are needs to mention in it. The team should mention the reasons for selection or rejection of assess details. As well also concern details that helps to human resources department to easier for maintaining records and further processes.
Interview assessment sheet format is manage, storage and disposal process is conduct for maintaining documentation system. All processes are manage as per standards system adopt by management.
————————————————————————–
Download format in word document | Excel Sheet | PDF format
————————————————————————–