A packaging analysis process is systematic approach may help to ensure the packaging materials' quality and cost is effective. It may also analyze the product is deliver to customer at on time, and with without damage.
Introduction to Packaging analysis
Packaging analysis process conduct for managing activities of packaging processes, to ensure the product quality, and packaging timing is maintaining schedules, and deliver product as expecting by customers. This process is establishment needs to identify requirements of packaging timing. That all the required time frame is maintained in the schedule as per considering product quality and customer requirements.
Analysis process is maintain and implement to verify analysis processes to manage actual packaging. To verify the schedules and compare records and activities for product quality and packaging time. The analysis process of packaging is identify the condition of packaging lots, schedule for each lot, actual packaging timing are verify for identify the actual situation of packaging processes. It may conduct annual basis where any single product is conduct and identify for the further actions.
When the analysis is taken at place?
The product which is mostly customer requesting and regular that conducts for analysis. Each product lot is verify as per schedule prepared by planning department as per customer order requirements for delivery and same the product packaging and delivery is important or middle of packaging analysis.
Packaging process is conduct by packaging department. The department head is responsible for all the activities conducted within the department. They are maintaining schedule of packaging, implementation of packaging and care of product quality during packaging process should monitor and controlled by department head. Even they are also responsible for it.
Who will conduct the process?
The process is conducts by qualified team appoint by management as per experience of members. The duties and responsibility for analysis, and its documentation should conduct as management assignment. The deploy team is conducting the product packaging details as per schedule, and according to the records and schedule. Team is prepare the documentation for verification and reporting to management for packaging processes implementation.
Packaging Analysis Sheet Format
See picture below given as example format for education purpose: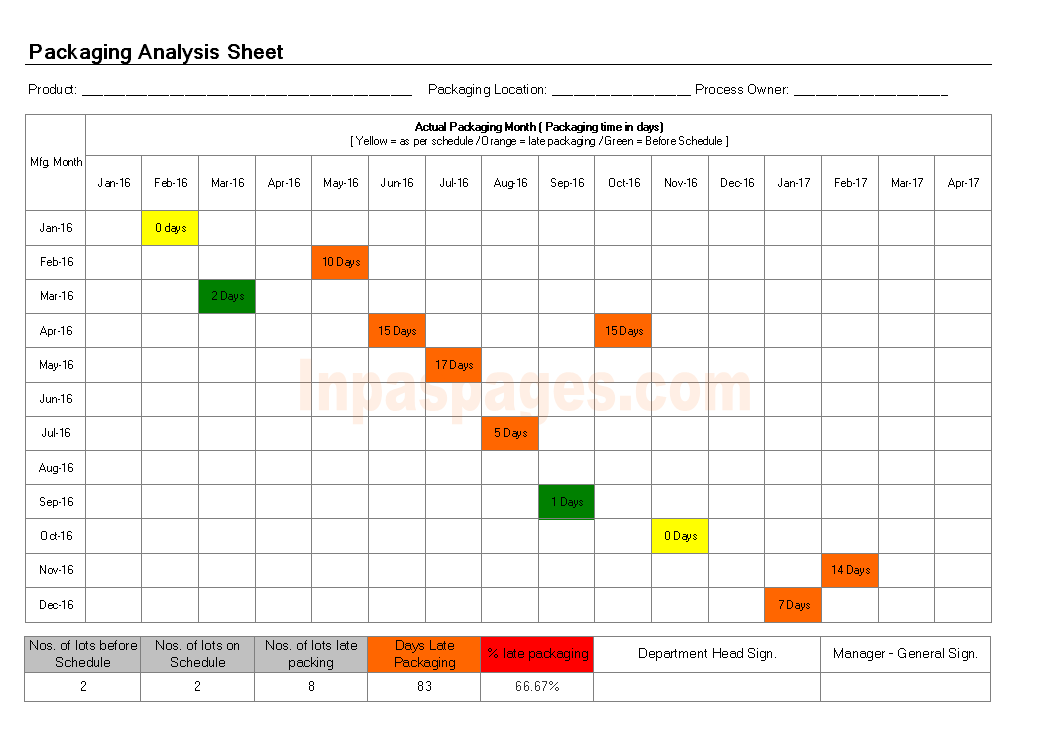 Packaging analysis sheet format is use to recording information of packaging schedule and its concern analysis. Where actual packaging process is conduct on the day, the analysis team identify the late or early packaging as per schedule provide by planning team.
Conclusion
The team is verify the packaging records of each product individual and manage analysis of each product as per packaging schedule and its actual date of packaging. As well the whole process is manage annual basis. All the inputs data are conduct for year to selecting product for analysis.
The documentation for packaging analysis, reports and sheets are provides to management and packaging department. The management is reviews the analysis and determine actions to implement all the concern processes. Department is equally responsible for implementation of all the regular tasks to enhance the system for maintain quality of product, time of delivery by maintaining schedule.
—————————————————————————
Download format in word document | Excel Sheet | PDF format
—————————————————————————