ISO 9001 Road Map – ISO 9001: 2008 Implementation Road map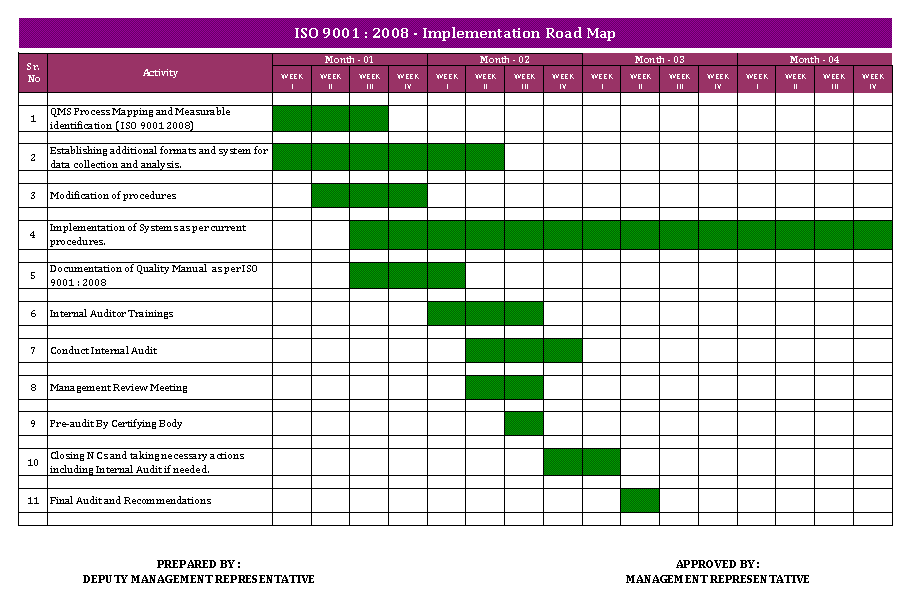 International standard ISO 9000 is very popular series and ISO 9001 is most in the series is for maintain quality management in organization guideline and standard clause to enhance add value in quality product, currently peoples are well aware about ISO 9000 series that ISO 9001: 2008 for quality management system is currently peoples are follows.
For the implementation ISO 9001: 2008 in organization need a proper planning to implement for with respect to manuals, Procedures, formats and documents preparation as per clauses requirements of ISO 9001: 2008. ISO 9001: 2008 – implementation planning for the improvement in organization – ISO 9001: 2008 road map is one of the popular format to planning & monitoring of each stages of implementations in organization.
ISO 9001: 2008 – Implementation Road map is indicates the month wise, week wise implementation, graphical presentation of improvement planning and improvements of actions required in line with improvement planning.
For the implementation follow activities are considered in this format, you can add as your requirements of organization.
Activities are involved in Format as below:
QMS Process Mapping and Measurable identification ( ISO 9001 2008)
Establishing additional formats and system for data collection and analysis.
Modification of procedures
Implementation of Systems as per current procedures.
Documentation of Quality Manual  as per ISO 9001 : 2008
Internal Auditor Trainings
Conduct Internal Audit
Management Review Meeting
Pre-audit By Certifying Body
Closing N Cs and taking necessary actions including Internal Audit if needed.
Final Audit and Recommendations.
For the ISO 9001 implementation in organization, Road map of internal standard implementation is primary document that gives a direction. Here is ready made ISO 9001 : 2008 – implementation road map format is available in excel sheet for download, after download it can be possible to edit, add, remove, modifications as your organization's requirements
Available for Downloads
Download ISO 9001: 2008 Road map for implementation in excel sheet format
ISO 9001: 2008 Road map for implementation examples
ISO 9001: 2008 Road map for implementation samples
ISO 9001: 2008 Road map for implementation formats
ISO 9001: 2008 Road map for implementation descriptions
ISO 9001: 2008 Road map for implementation template
Related Topics: